When it comes to durable, long-term protection of your facility's floors, urethane cement floor systems provide a number of benefits. And as a leading commercial/industrial urethane cement floor installer, we know all about these popular flooring systems
Originally developed to meet the challenges specific to food and beverage facilities, including protecting against damage from oils, heavy greases, food acids and thermal cycling, urethane cement floors are similar to concrete in that they provide excellent wear resistance, slip resistance and adhesion.
What's more, a good commercial/industrial urethane cement floor system installer can help you create a floor that can withstand thermal cycling and high moisture vapor transmission, making them ideal in food and beverage environments as well as in many other critical industrial applications.
Because urethane cement flooring was developed for moisture resistance and for use in these unique environments, these durable, long-lasting floor systems have three key benefits that you should consider that make it the perfect choice in certain environments. Read on to learn more!
High Thermal Shock Resistance
Whereas standard epoxy floors tend to crack at extreme temperatures, urethane cement floors can handle extremes between -100°F and 220°F without issue. These floors also have a high heat tolerance and can be intermittently exposed to even higher temperatures. For example, imagine a floor at a food processing plant that is 35°F. When washed with 185-degree water, that 150-degree difference could shock the floor and cause big problems over time. Unlike epoxies and other flooring systems that would fail in this situation, urethane cement floors will resist the thermal shock and other extreme temperature fluctuations.
Great Impact Resistance
Urethane cement floor systems also provide excellent impact resistance. Depending on the area, these flooring systems are installed at a thickness of at least 3/16 to ¼" – or even thicker depending on the facility. And the thicker the flooring system, the more impact resistance it offers. In fact, because urethane cement floors are built to withstand heavy use and abuse, they are an ideal solution for applications such as commercial kitchens and garages or environments with significant forklift traffic, light machinery and heavy tools that could potentially damage the floor surface.
Excellent Moisture Mitigation
As water vapor within concrete moves through the slab, it mixes with soluble salts. These salts then accumulate on the surface once the water vapor evaporates. Although not necessarily a cause for concern on unsealed floors, if a floor is sealed with an impermeable coating, vapor pressure is then created at the bond line. Should this pressure become greater than the floor's adhesion strength, it will break the bond to the concrete and form blisters – a process known as osmotic blistering. While resinous floors and standard epoxy systems have their limitations in terms of moisture and osmotic blistering, urethane cement floors are highly resistant to blistering. They stand up to far greater moisture than other types of seamless floor coatings.
Standard Epoxy vs. Urethane Floor Systems
When it comes to moisture, heat and impact resistance, urethane cement floors have a much higher tolerance than standard epoxy floor systems. In fact, to back up these benefits, studies have found that urethane cement floors are:
More than six times more tolerant of moisture than standard epoxy
Two times more tolerant of salt than standard epoxy
One quarter more tolerant of relative humidity than standard epoxy
Far stronger and longer-lasting in all environments
How to Choose the Right Urethane Flooring System For Your Facility
When you're ready to choose a new urethane flooring system for your facility, it's important to note that urethane cement floors can be broken down into three categories: light, medium and heavy duty. The thickness and type of coating will determine the flooring's level of resistance, which is why it's important to know the environment and its needs in order to select the appropriate flooring. Ultimately, the thicker the system, the higher the durability, moisture resistance, and heat resistance.
For example, light duty urethane floors have a heat tolerance of up to 300°F and are ideal for kitchens, breweries and distilleries, warehouses, storage and light manufacturing where slip resistance is required.
Medium duty urethane cement floors are also slip-resistant, have an intermittent heat tolerance of 350°F and are commonly used in tool cribs, machine shops, high traffic areas, food processing, kitchens, manufacturing and warehouses.
Finally, heavy duty urethane floors boast a heat tolerance of 400°F and are able to withstand aggressive thermal and chemical attacks while providing slip and abrasion resistance. These floors are best-suited for use in bottling areas, manufacturing areas and food processing areas.
As with all flooring systems, the right solution for your particular facility depends on your own unique situation. Therefore, it's important to talk to an expert who can review your operation and help you determine which flooring is best-suited for your application.
At PennCoat Inc., we're experts at installing urethane cement flooring systems for commercial/industrial facilities. With a wide range of seamless flooring systems to choose from, including urethane cement floors, self-leveling epoxy floors, decorative flooring systems, epoxy mortar resurfacing, spark-proof flooring systems, polyaspartic coatings and more, we are standing by to help you determine which will work best for you. And best of all, we know how to install these systems so that they will function properly, safely and protect your investment for years to come.
Recent Urethane Cement Floor Installation Projects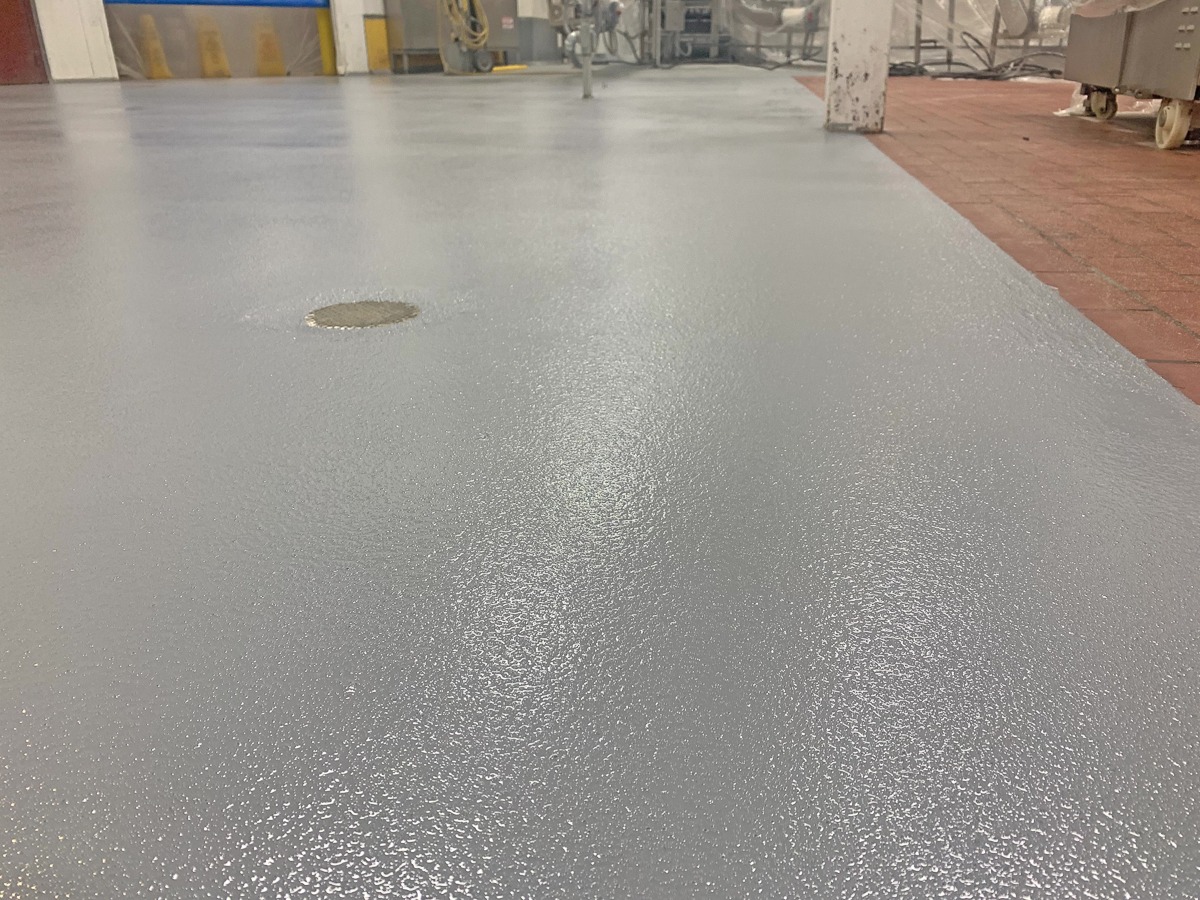 Ready to Learn More?
If you have questions about urethane cement floor systems or you'd like to speak to an expert about your unique application, contact the team at PennCoat today. We're happy to speak with you about your facility's needs and help you determine whether urethane cement floors are right for your application. We look forward to hearing from you!