Line Striping
Integrating clearly defined, long-lasting warehouse striping into a food or pharmaceutical plant, warehouse or other commercial/industrial facility improves your building's safety and traffic flow. For instance, you might need epoxy-painted floor lines, safety markers or pedestrian walkways for your manufacturing plant — where durability is necessary to ensure safety and organization. When it comes to painting your warehouse floors with stripes, there are many factors to consider, including the level of floor preparation, the type of coating used for the striping and the striping itself.
Let the highly trained experts at PennCoat help you with this decision process. We can work with you to create a more efficient facility with clear floor markings that can help keep workers safe, while better organizing your facility and keeping foot and forklift traffic flowing smoothly. Best of all, thanks to ongoing and consistent training, we know how to work efficiently and safely in unique, complex commercial and industrial environments.
What Line Striping & Safety Marker Systems Are Available?
Whether you need a simple update or you're looking for a complete facility overhaul, PennCoat can help. We take pride in our work, and we are dedicated to helping you improve your 5S Standards by making your facility clean, safe and looking sharp. We offer a variety of durable, hardwearing options for nearly every operation, including the following.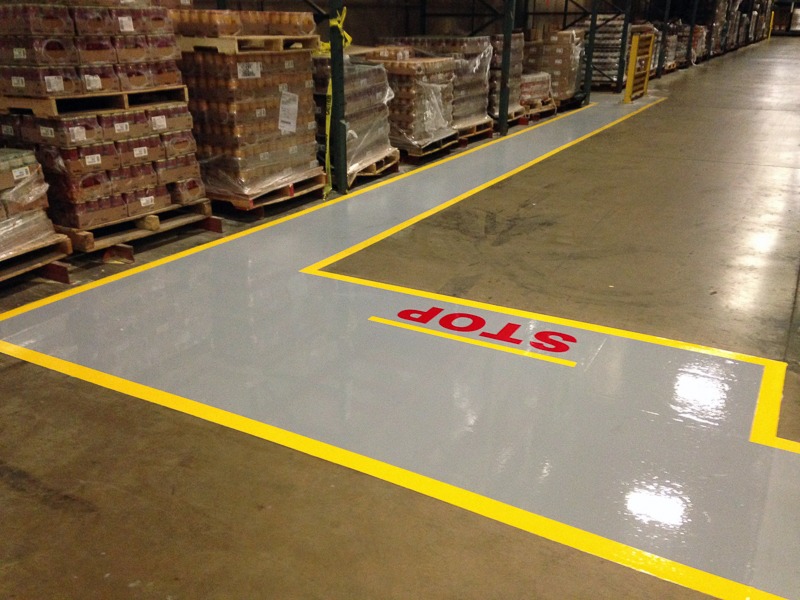 Pedestrian Aisleways
Designated walkways and crosswalks set clear paths, promote safety and help to prevent avoidable accidents. Whether you are looking for simple and inexpensive yellow lines to mark a path or durable multicolor aisles, we have the system to meet your needs.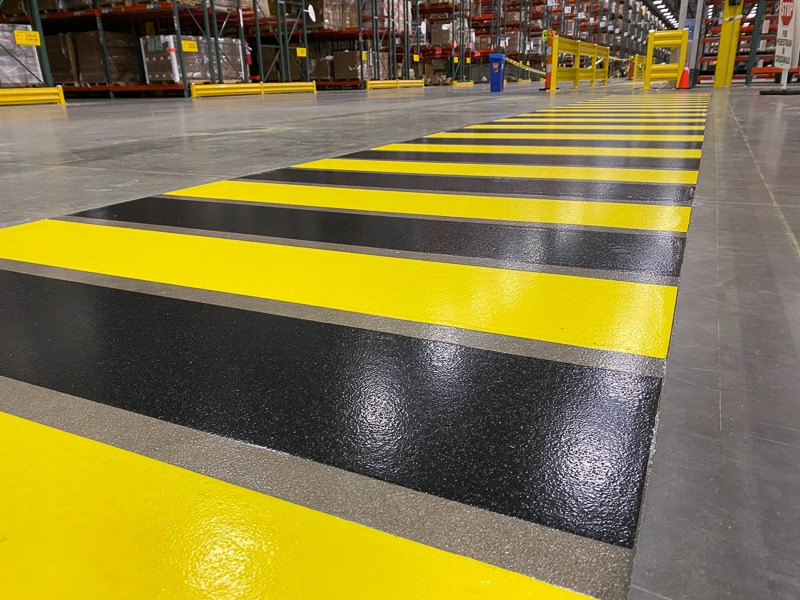 Pedestrian Crosswalks
Clearly marked crosswalks let your pedestrians know where to cross an open forklift aisle while also creating a unique visual boundary for the forklift operator. Pedestrian crosswalks can simply be two parallel lines infilled with 45-degree hash lines or, for a more elaborator appearance, PennCoat offers a heavy-duty, 18″ staggered black and yellow finish that holds up to prolonged forklift traffic.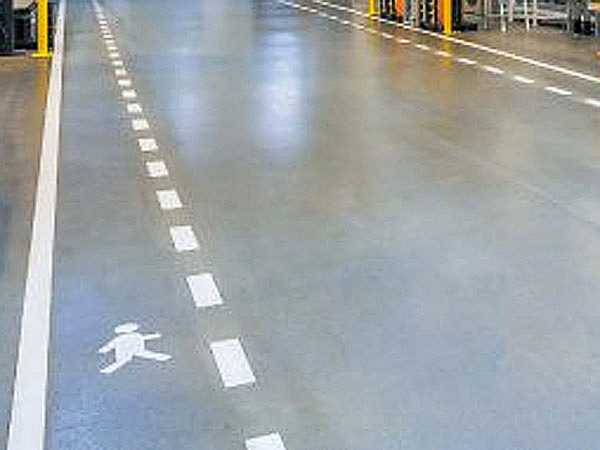 Forklift Traffic Lanes
Clear forklift traffic lanes prevent congested aisles and accidents between vehicles and pedestrians. To ensure forklift safety for pedestrians, we can design traffic lanes for these vehicles that are clearly marked on the floor.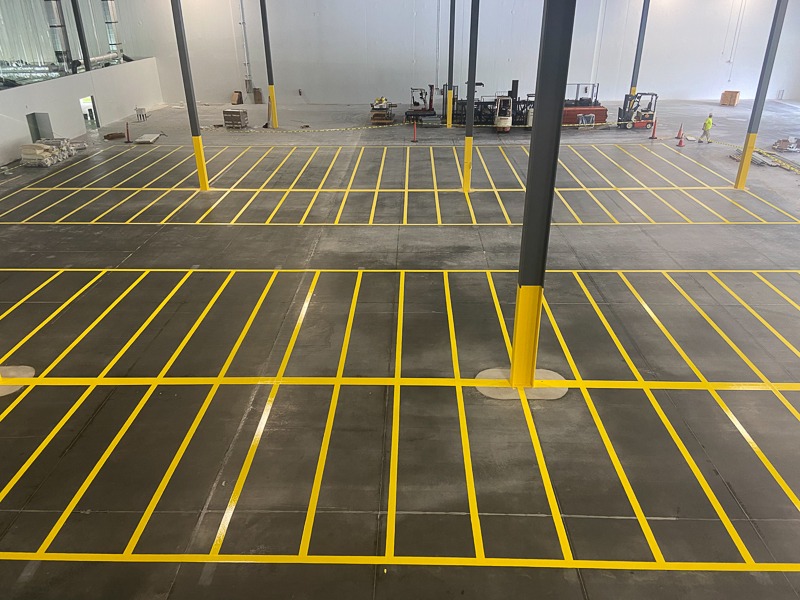 Warehouse Floor Lines
Industrial floor lines help with efficiency and staying organized. Depending on the preparation methods, coating types and spray or roll applications, we can install the system that meets your needs and budget.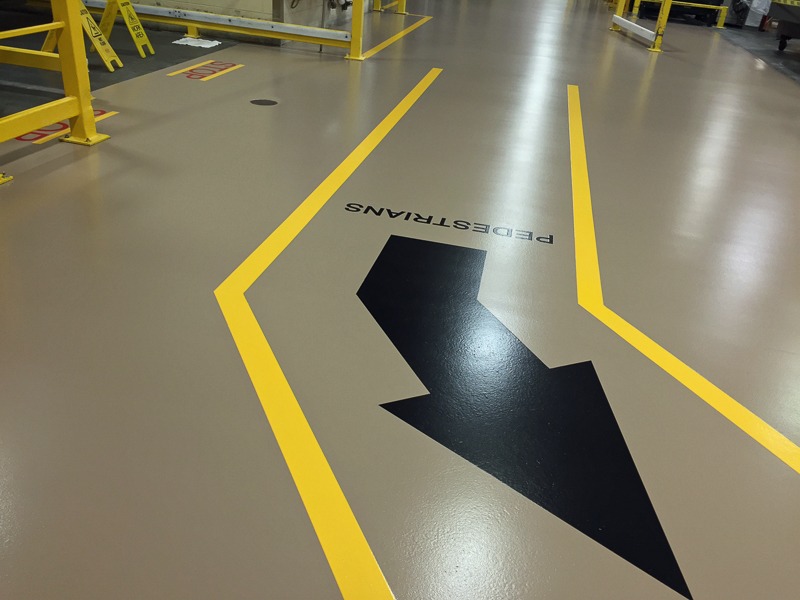 Safety Floor Markers
When you're planning traffic control and setting a clear direction, safety floor markers are vital to the program. We can install graphics that range from products embedded into the concrete floor that withstand heavy forklift traffic all the way down to light-duty stencils and stickers..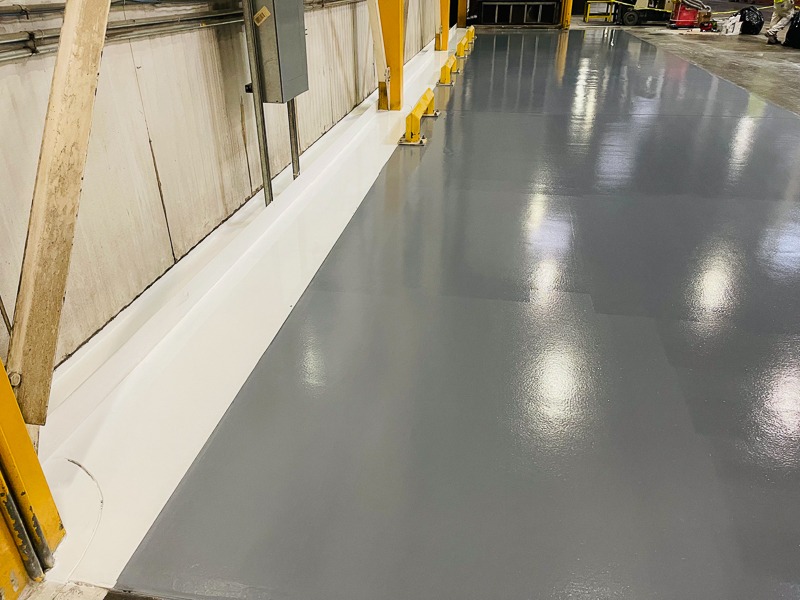 Sanitary Lines
Sanitary lines are sometimes called "rat lines" or "rodent lines." Our sanitary lines allow for faster health inspections in food and pharmaceutical facilities since these lines are a required part of the space design. Due to the contrasting color of the rat lines, inspectors can more easily and quickly identify rodent droppings in the facility.
How Do We Prepare the Surface?
The key to a coating's adhesion is surface preparation, so this is an important aspect of any line striping project. Depending on the surface and condition, we offer two options to prep the area for maximum durability. Or, if your facility has floor lines that need to be removed, we offer an option for this as well.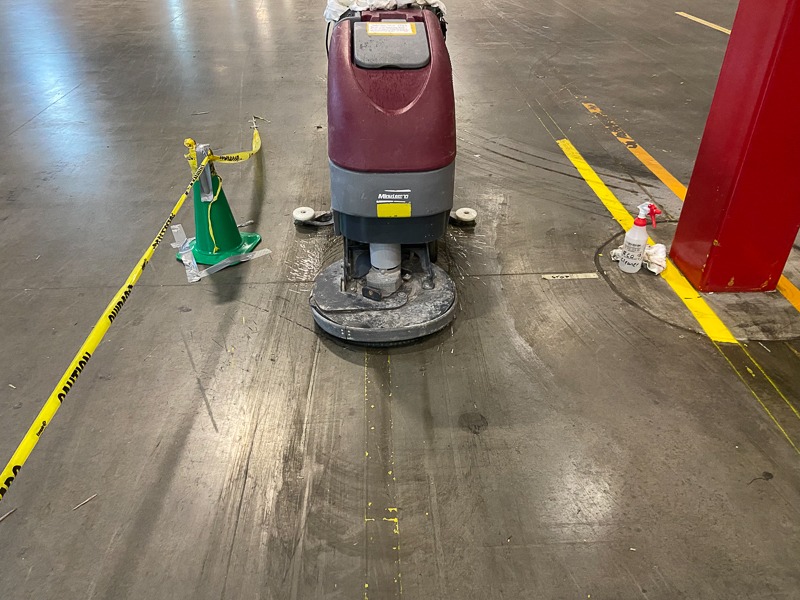 Mechanical Floor Cleaning
At minimum, we use floor-scrubbing machines to clean and remove surface contaminates prior to applying line striping coatings. This allows the new coating to gain maximum adhesion and provides long-lasting durability.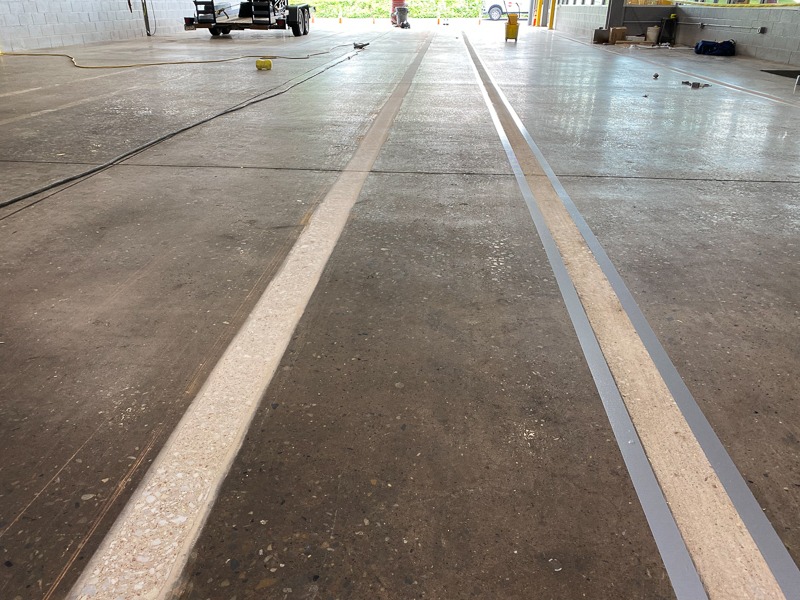 Mechanical Profiling
When a coating is applied to a hard, smooth concrete substrate, adhesion is solely dependent on the bonding properties of the coating. Concrete density, smoothness and surface contaminates, along with exposure and abrasion, can lead to premature coating failure. PennCoat offers a unique method of mechanical shot blasting and diamond grinding that cleans and creates an aggressive profile to promote mechanical adhesion of the new line striping coating.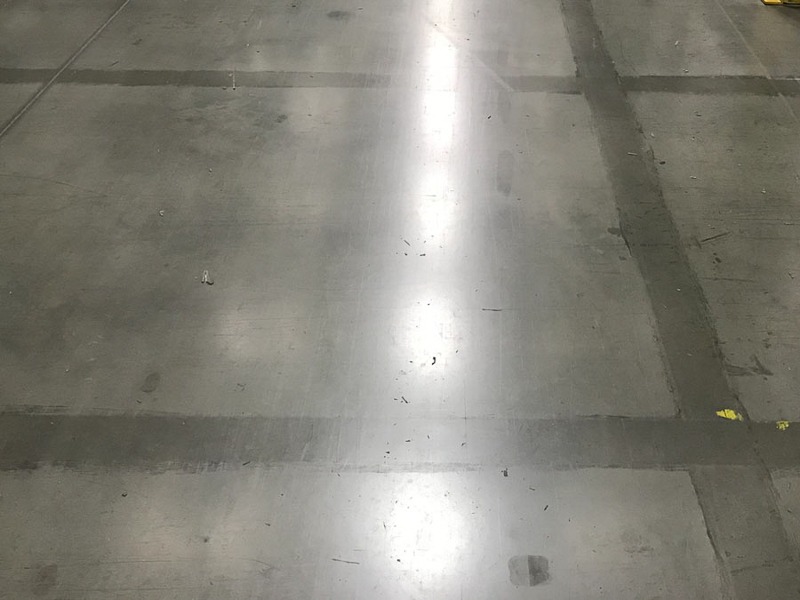 Floor Line Removal
If you need to remove floor lines, the least costly and most practical method is to overcoat the floor line with a new coating that closely matches the surrounding floor color. A second method is to completely remove the line using an environmentally friendly chemical stripper. Our method will remove the line striping coating without causing additional damage to the floor, and it usually requires a two-day turnaround time.
What Materials Are Best for Floor Striping?
We offer three types of paints or coatings for line striping: acrylic and solvent line striping traffic paint, solvent epoxy, and polyaspartic coating. Each of these methods offers its own colors, application method, and drying time. The best choice for a location depends on your budget, color needs and the amount of downtime available to dedicate to surface preparation and drying time. Read on to learn more about these coatings.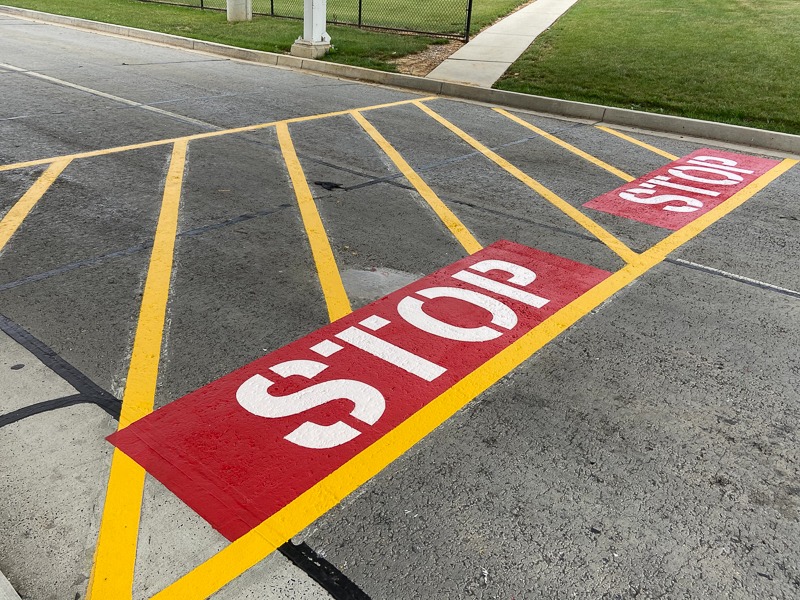 Acrylic & Solvent Line Striping Traffic Paint
Our economy coatings include water-based or solvent-based floor line striping paint. These options offer a quick dry time and spray-on application, making them an ideal solution for facilities with little time to spare and a low expectation for longevity. This paint typically comes in white, yellow, red and blue for a variety of striping applications, including safety and instructional.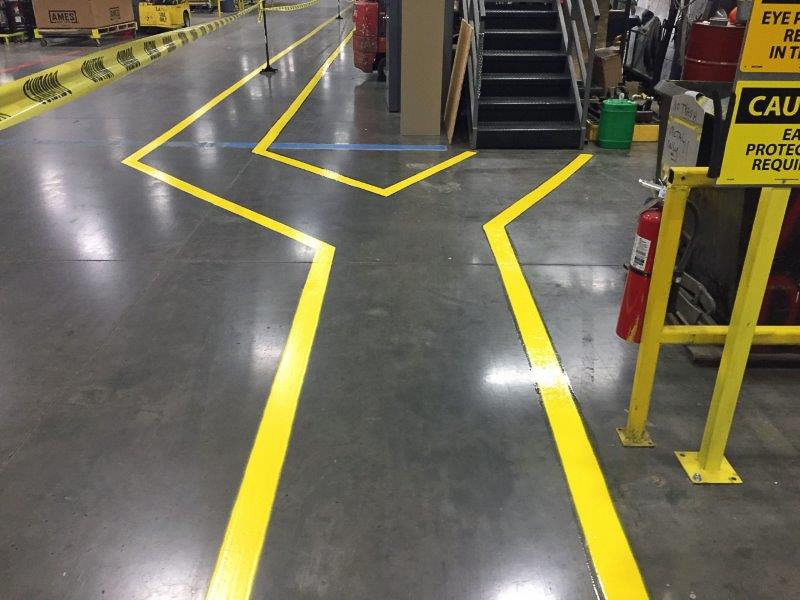 Solvent Epoxy Coatings
Solvent epoxy is one of our many superior coatings and offers better adhesion, even on marginally prepared surfaces. It also offers a 24-hour cure time and abrasion resistance for heavily trafficked areas. For facilities that cannot utilize shot blasting, solvent epoxy blends the best of minimal preparation with a long service life.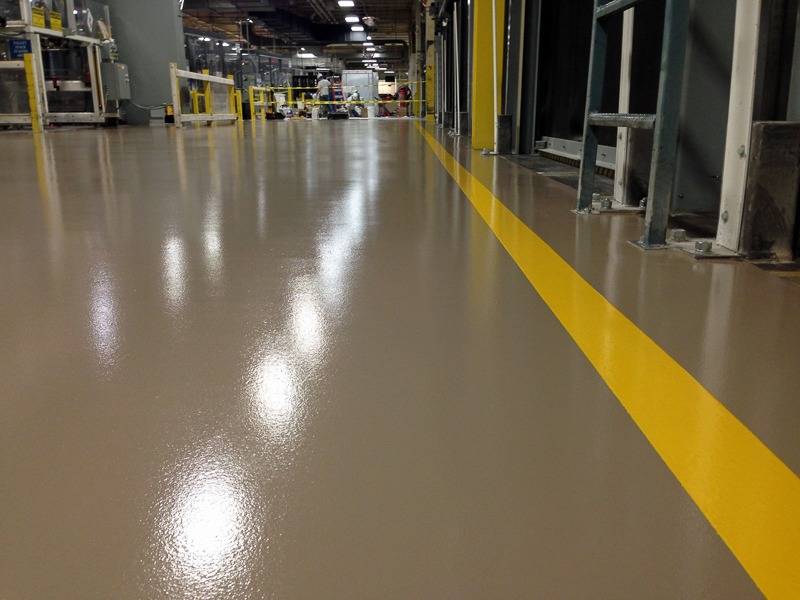 Polyaspartic Coating
Polyaspartic coating also has a fast cure time, ranging from two to four hours. As with solvent epoxy striping, our polyaspartic coating offers both longevity and abrasion resistance as well as a high level of stain and scratch resistance, making it ideal for high-trafficked areas.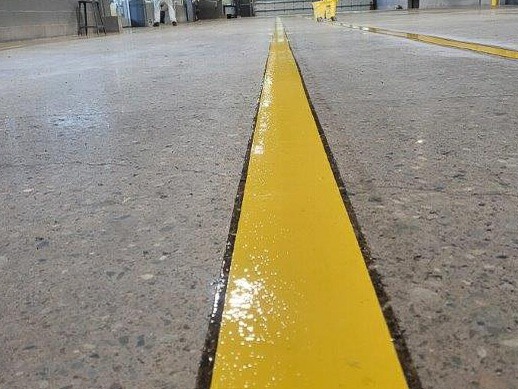 Clear Coats
A clear epoxy top coat can extend a floor line's service life up to 500%. Epoxy clear coats greatly enhance the durability of floor lines that are subject to heavy walking and forklift traffic. When you encapsulate a pigmented epoxy floor line under a clear wear coat, the clear coat becomes the first defense against abrasion and side impact.
Each of these materials has its own set of advantages and disadvantages, so it's important to consider your specific operation when reviewing your options. Failure of floor coatings and striping happens for several reasons, including poor floor preparation, contaminants, poor choice of coating, improper mixing, or the wrong environment for a particular material. Keeping these factors in mind, the reliable professionals at PennCoat will help you to determine the best material for your operation and will do the job so that it lasts for the long-term.
Why Choose PennCoat
Depending on your industry and use, we have the preparation methods, coating systems and know-how to make your project a success. Unlike other line-striping companies, at PennCoat, we provide a full range of services for a variety of commercial and industrial facilities. We can incorporate line striping into a new floor coating or on top of an existing coating to help you organize your warehouse and sustain a more productive workplace. Best of all, by offering competitive prices with our high-caliber service and quality coatings, we set ourselves apart from other line striping companies.
For more information on our services or to get answers to any questions you might have, contact us today. We look forward to hearing from you!