When it comes to finding an industrial equipment painting contractor, it's important to work with a service with the knowledge, tools and experience to get the job done right – the first time. Whether you need exterior or interior painting for a silo or tank, secondary containment, structural steel, heat stack or another piece of manufacturing equipment, we can help.
At PennCoat, we're an Avetta-trusted, ISN member who puts safety at the forefront of every job we do. If you're in need of an industrial equipment painting contractor, keep reading to see if you've chosen the best contractor for the job!
They Have Experience Working in Facilities Like Yours
When choosing an industrial equipment painting contractor for your project, it's imperative that the contractor has experience working in a facility or environment similar to yours. Factories are different from houses and offices, and whether you're in food processing, manufacturing, pharmaceutical or another industry, your needs are unique – and your equipment painting contractor should be able to recognize the difference.
At PennCoat, we have more than 30 years of experience serving a variety of industries, including commercial/industrial, pharmaceutical, manufacturing, wastewater treatment, power and energy, petroleum and fuel, food and more. Not only do we have the right tools and materials to complete your project, but we have detailed SOPs and installation standards that cover every step of every project. This means we have the experience to work in a variety of unique environments while performing quality work that lasts for the long haul.
They Are Committed to Ongoing Training
Safety standards, best practices and technology are changing faster than ever. As such, it's important that your industrial equipment painting contractor remains up-to-date and provides continuous training to all employees, regardless of previous experience, tenure or current position.
From training our estimators to evaluate possible failure points, to training our installers on lock-out tag-out processes, to understanding surface preparation, coatings and re-coat windows, we are trained to perform complex projects in complex environments. And through continuous ongoing training for our entire team, we achieve buy-in from everyone in order to work safely and correctly on every project.
They Know How to Make Minimal Impact on Your Operation
There's nothing worse than agreeing to a timeline and project scope only to find weeks later that this downtime is costing you more in time and money than you were initially led to believe. As such, it's critical that your commercial/industrial equipment painting contractor has the knowledge and tools to apply the needed industrial coatings without leaving your operation stalled.
At PennCoat, we begin each job by coordinating with your Facility Manager and developing a job-specific safety plan to reduce the impact on your business. Since machinery isn't designed like a flat wall or roof and every surface has unique needs, our experience in the nuances of industrial equipment painting means we can complete the job quickly and safely with minimal impact to your operation. Plus, we go the extra mile on every project. With dedicated project management, good communication, and professional coordination, we'll plan the work and then work the plan to achieve a quality result with minimal impact.
They Have Safety Certifications for Commercial/Industrial Applications
Your industrial equipment painting service should be committed to keeping their team – as well as your facility and employees – safe at all times. Whether that is demonstrated through ongoing employee training, certification or something else, be sure to ask your contractor about any safety certifications as they relate to commercial/industrial applications.
At PennCoat we are an Avetta-trusted, ISN member who puts a focus on safety at all times. Not only do we have an active safety plan that we implement with every project, but we also ensure our employees are up-to-date on all safety-related training to ensure everyone is able to work without incident. We host monthly all-staff safety meetings, daily toolbox safety huddles, and we promote a culture of safety throughout our organization that has complete buy-in. So be sure to choose a contractor who will get the job done right, without sacrificing safety.
They Have the Right Materials, Tools and Equipment For the Job
Experience is only half of the equation; the success of your project will also depend on your industrial equipment painting contractor's equipment, tools and materials as well. Before choosing a company to handle your painting project, make sure they are adequately prepared to meet your needs.
You rely on your equipment to propel your business forward. In the same way, we depend on our equipment to complete your project quickly, safely and with minimal impact to your operation. From painting interior or exterior equipment to food, pharmaceutical, manufacturing or process equipment painting, we use the latest tools and technology to meet your needs.
From working with the right coatings, to PPE, containment, lifts, scaffolding, and other materials, we have what it takes to perform work in a wide range of unique commercial/industrial environments.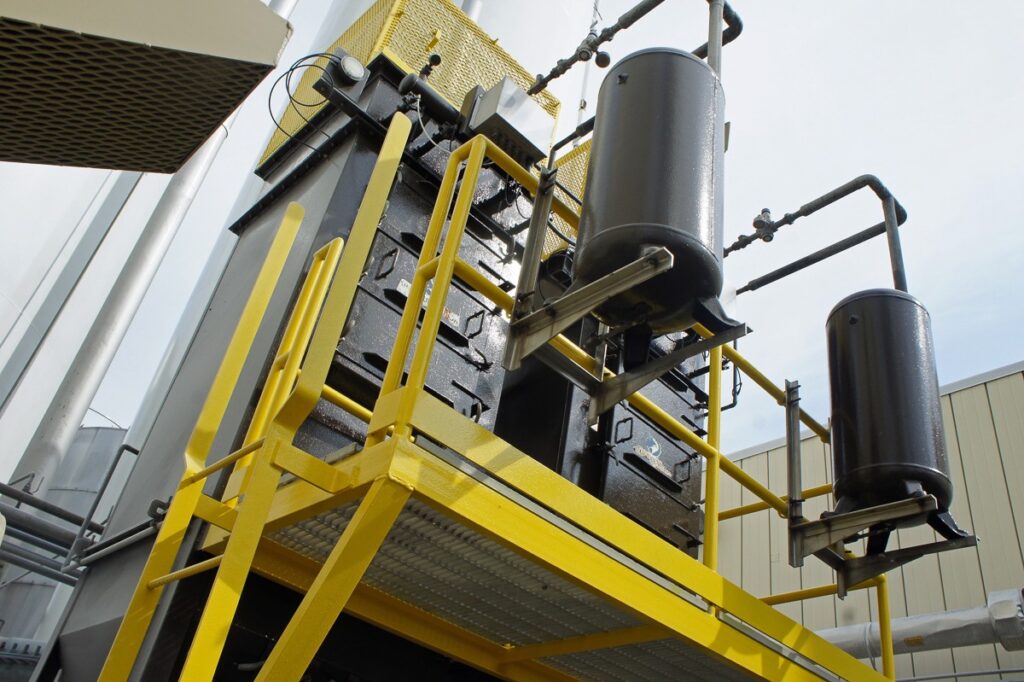 Ready to Learn More?
At PennCoat, we're committed to helping your facility stay clean, safe and looking sharp. If you have questions about our industrial equipment painting services or you'd like to speak with our team about your unique needs, contact us today. We look forward to hearing from you!