As a top commercial/industrial urethane cement flooring contractor in the Mid-Atlantic region, we often develop unique solutions to interesting flooring challenges. And this recent project in a Reading, PA food processing plant is a great example. Read on to learn how our team installed a new floor over top of worn dairy tiles and grout, bringing this facility's floors back to life.
Unsanitary tile grout is a common fault that USDA inspectors look for in food processing facilities, so if your tile grout could use an update, contact us today to bring your facility into compliance with this key inspection point.
The purpose of this project was to install an anti-microbial and chemically-resistant flooring system in a food processing area. Our ultimate goal, however, was to help our client eliminate the many issues associated with deterioration of dairy tile grout joints.
In addition, we had to meet a fast three day installation schedule, make sure the new flooring system would achieve a sufficient bond to the dairy tile substrate to prevent future problems, and meet strict safety and GMP requirements. To accomplish this, we coordinated very closely with plant management to develop and execute an installation plan.
To start, in order to minimize disruption, dust and debris in working areas of the plant, we built a containment area. Once containment was in place, we made sure to effectively prep the existing tile flooring to ensure proper installation of the new flooring system – which would lay directly over top of the existing tiles.
To ensure that the final result would be an evenly textured floor with proper adhesion, we repaired broken tiles with a specially-designed epoxy mortar to provide an even underlayment. We also reinforced key perimeter tile areas to strengthen transition points at doorways, drain edges and adjoining floors. Finally, we installed a textured urethane cement flooring system with a chemical-resistant finish right over the existing, prepared tile.
Ultimately, this project was completed in a short three day timespan that minimized disruptions to production, while taking the proper precautions to protect equipment and inventory. By using the right flooring system and installation process, we are happy to have achieved a strong, long-lasting floor.
In fact, the finished flooring system was installed in such a way that you can no longer tell that there is a tile floor underneath the urethane cement coating. The existing tile joints and lines are completely hidden by the new flooring system. Browse the gallery below to see our work on this project and envision how a new flooring system would look in your manufacturing plant.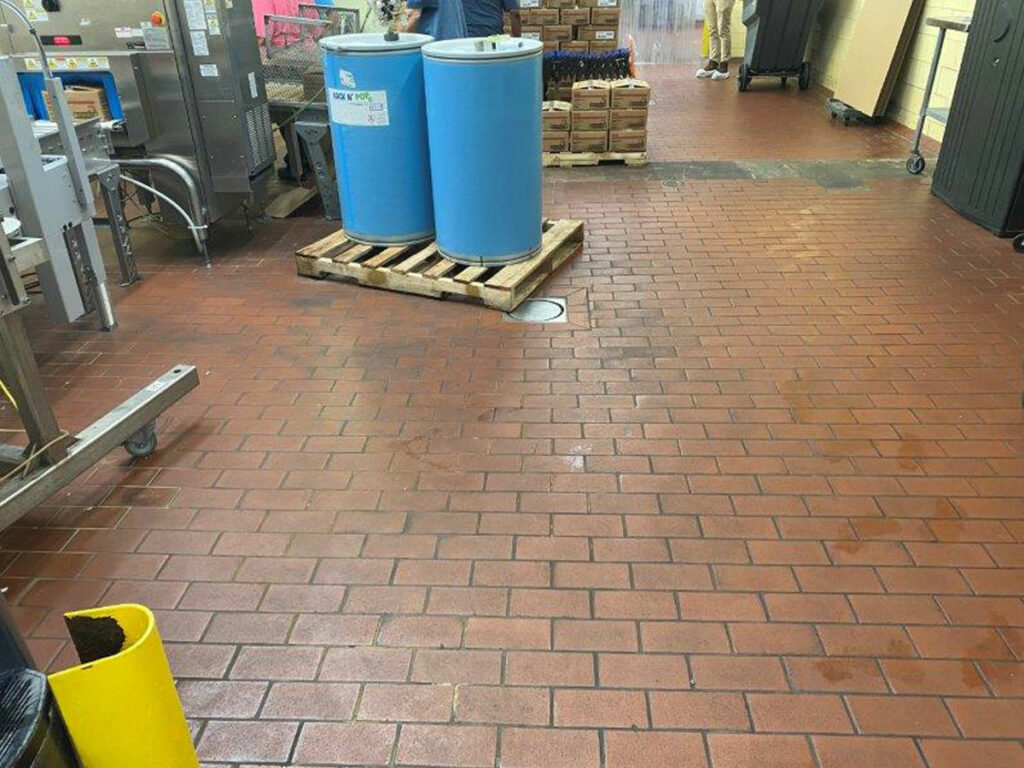 If you're looking for a commercial/industrial urethane cement flooring contractor who can develop a plan to enhance the floors in your manufacturing plant, contact us today. Our team of facility experts is standing by to help get your next flooring project done neat, clean and safe – and done right and on time!