Safety Floor Markers
Commercial and industrial facilities are busy, often-hazardous environments with unique challenges when it comes to managing productivity, efficiency and safety. If you're looking to increase your 5S Standards by providing safer working conditions, you might consider investing in safety signage and painting. This use of paint technology and strategic color combinations can provide better protection for employees, equipment and products. Initiatives like painting warehouse ceilings and floors, safety floor markings, and pedestrian walkway lines and aisles are all effective ways to mitigate risk while enhancing productivity.
Significantly reduce the risk of injury in your facility by taking simple and precautionary measures. For instance, brightly painted floor lines and hazard symbols can draw attention while improving both floor and stair traction, thereby reducing injury rates. In addition, employees gain increased situational awareness of moving equipment and safe lane travel when they have clearly demarcated pathways to follow.
At PennCoat, our crews take safety seriously. Not only do we provide consistent, ongoing training to ensure that our team is capable of completing the job as safely as possible, but we also have experience working in highly complex, unique commercial and industrial environments with minimal impact to your operation.
What Floor Signs & Safety Marker Systems Are Available?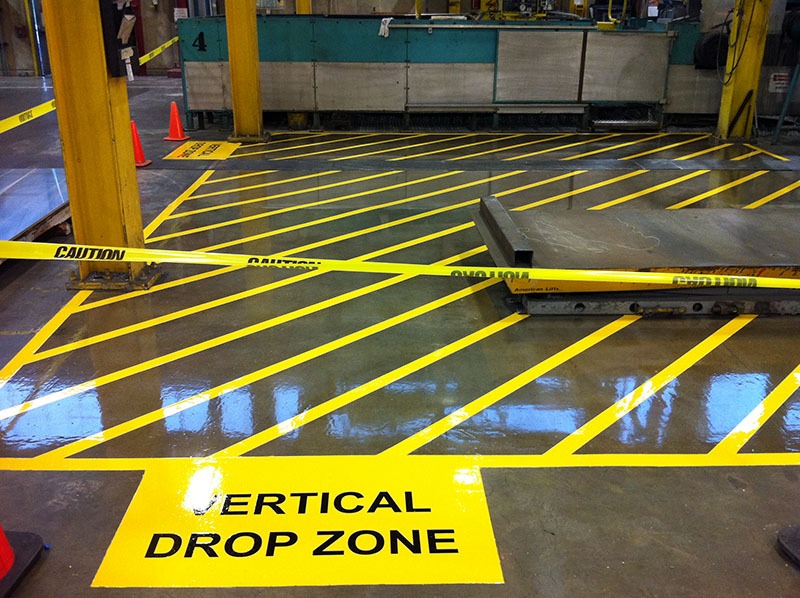 Epoxy Clear-Coated Markers on Concrete
Designed for light forklift and walking traffic, epoxy clear-coated markers are typically installed in warehouses and manufacturing facilities over bare concrete substrate. The process involves installing epoxy-painted signs and lines to create a visual awareness. The coating system is then encapsulated under a clear epoxy wear surface to increase cleaning and durability.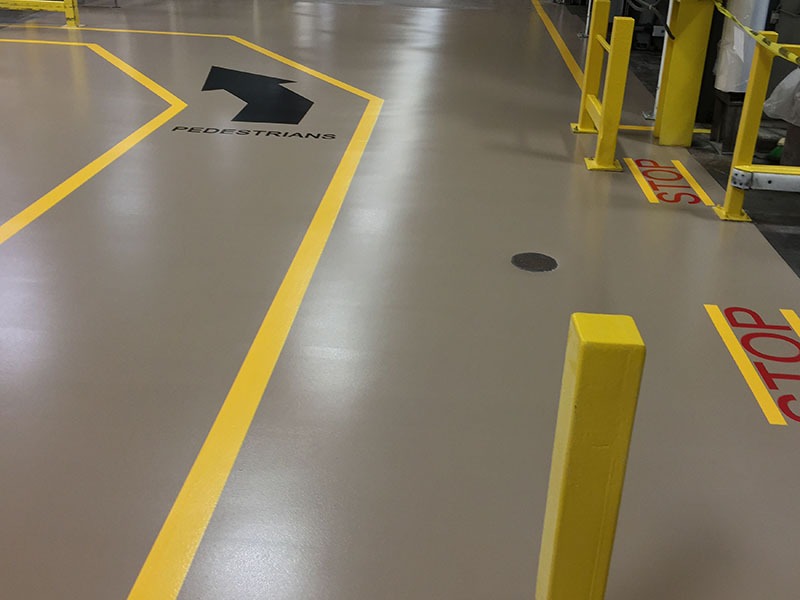 Directional Forklift & Walking Path Signage
Designed for heavy forklift and walking traffic, this system creates a designated crossing in busy intersections that ensures pedestrians and drivers can move through the area safely. PennCoat's directional signage will stand up to prolonged abrasion from forklift traffic and put the final touches on a new industrial floor system.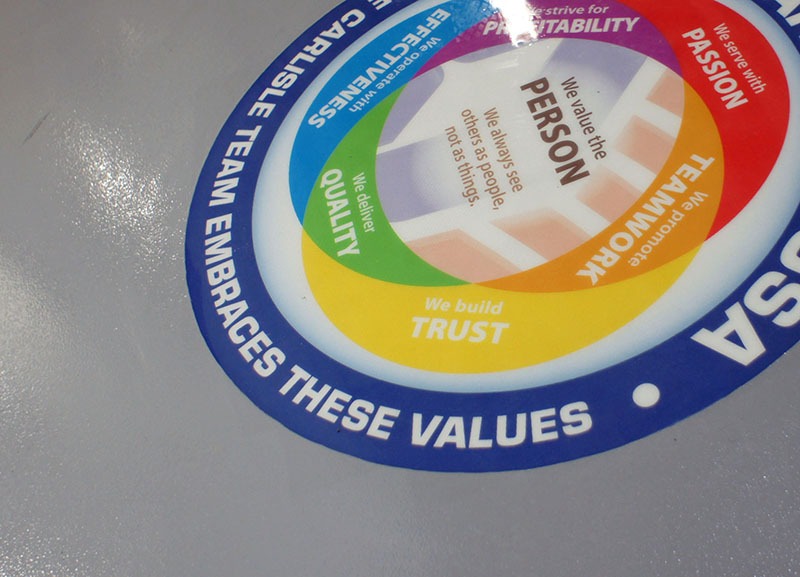 Heavy-Duty Mesh Graphic Floor Signs
Unlike printed vinyl and stickers that delaminate, our fiberglass mesh signage is embedded and encapsulated into an epoxy resinous system. PennCoat can recreate any graphic down to the most minute detail. Once installed on either bare concrete or into a new PennCoat flooring system, this heavy-duty and non-yellowing graphic will withstand both walking and forklift traffic.
Safety Paint Rules to Consider
A key element in planning warehouse lines and markings is consistency. Workers always recognize colors associated with a message more so than specific shapes and sizes. Our commercial and industrial painters go beyond the basic principles where red is primarily for sprinklers, orange is typically found on ammonia pipes and floor bollards are coated in bright yellow paint. While paint schemes aren't mandated by law, you'll want to ensure that directions are easy to understand and follow — and PennCoat can help you every step of the way.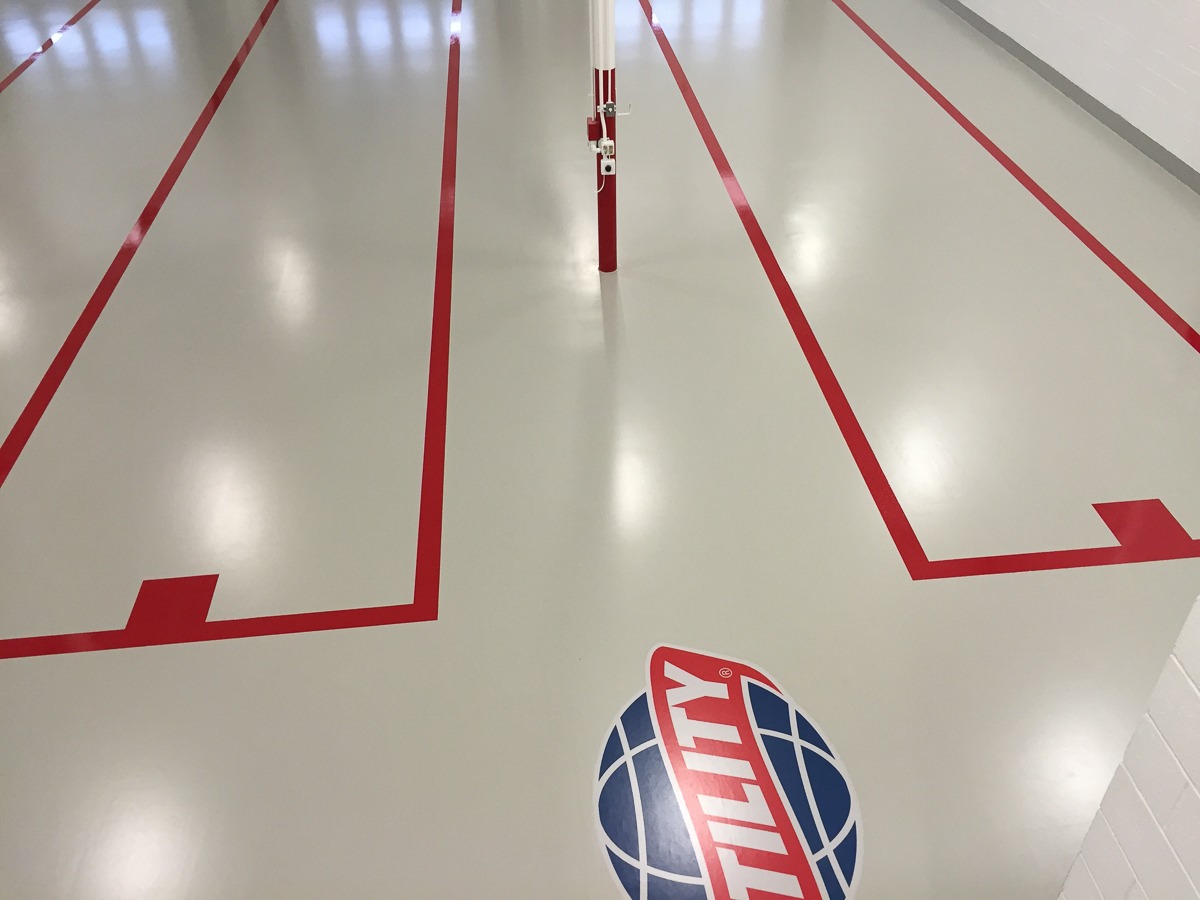 Why Choose PennCoat
PennCoat is an Avetta-trusted, ISN member and a leading industrial and commercial painting company. We take pride in our work, helping warehouse managers and engineers professionally plan and paint their facilities. Beyond adding safety to warehouse, commercial and industrial environments, PennCoat has an impressive company safety record. After all, it takes a safe painting company to understand warehouse safety painting. We approach challenging projects with pre-planning, expertise and common sense.
All of our commercial and industrial painting projects start with a comprehensive site evaluation followed by detailed budgeting options and a guaranteed work schedule. And best of all, we uncover and eliminate conditions that threaten future paint deterioration, including comprehensive substrate testing to identify contaminants. We also perform each safety signage and painting job quickly, efficiently and with minimal impact to your operation.
For more information on our commercial painting, line striping and floor marking services, contact us today. We look forward to hearing from you.