When it comes to line striping systems for large, busy warehouses, our team knows how to help. As an expert commercial/industrial line striping contractor, no job is too big or too complex for us to consider. This recent project in a 1,000,000-square-foot warehouse located near Carlisle, PA is no exception! Read on to see how PennCoat installed over 10,000 linear feet of epoxy lines without impacting the client's busy operation.
With a huge warehouse, a 24/7/365 operation, and heavy forklift traffic, this facility needed a creative line striping solution. Their existing lines were heavily abraded, and they needed new lines installed that would hold up to the aggressive forklift traffic for the long term. After evaluating the situation and proposing a solution, our team swung into action.
First, we removed the existing vinyl taped lines that just didn't have the durability required to hold up to constant tow motor traffic. We then employed a Level-4 Mechanical Steel Shot Blasting surface preparation system to prepare the floor for the new lines.
This system is designed to create a suitable abraded profile on the concrete substrate that enhances the mechanical adhesion of the new 2- component epoxy line coatings. The shot blasting system required upgraded power, which we provided using portable generators that were suitable for the warehouse environment.
We then applied a 2-component epoxy line striping system using zero-emission, battery operated sprayers that kept emissions to a minimum within the warehouse. Finally, once the epoxy lines had cured, we applied a Level-1 hand applied epoxy clear coat for added durability. This final coating enhanced the longevity of the line system by reducing the abrasion of the colored epoxy lines. Check out the gallery below, to see the results!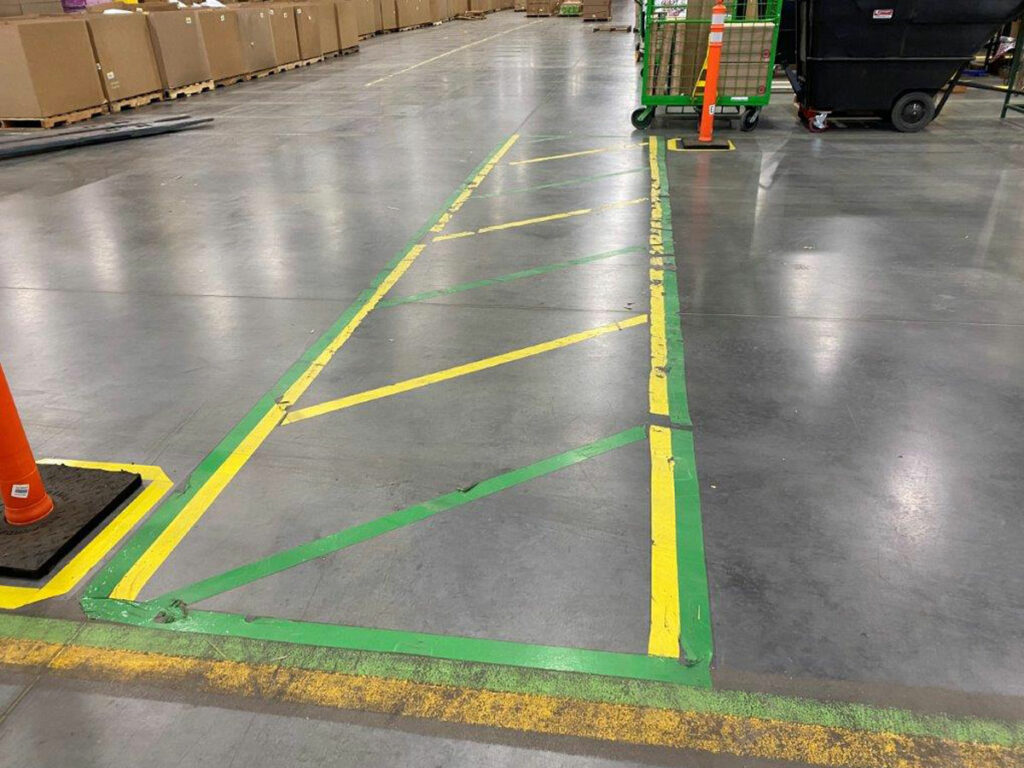 Thanks to proper planning, we were able to have a minimal impact on the busy warehouse operation. We worked closely with building management to schedule multiple phases of work which aligned with their production schedule and ultimately allowed everyone to get their jobs done with minimal disruption – both client and contractor.
In fact, the project was such a success that the client responded at the end of the job with a very thoughtful letter that praised the communication, execution and safety protocols our crew employed to complete the project. But for us, it was simply another job completed Neat, Clean, Safe – Done Right and On Time!
If you're looking for a warehouse line striping contractor who is equipped to work in large, busy warehouses, contact us today to discuss your needs. Our line striping experts are standing by to learn about your needs and recommend a durable, long-lasting solution. We look forward to hearing from you!
---
PennCoat's Standard Systems Used
Surface Preparation
L-SP-L4
Mechanical Shot Blasting
Mechanically abrades substrate, leaving a clean, aggressive profile
Line Coating
L-SA-SL-L2
Level 2 – Sprayed Lines, with 2-Component Epoxy
Good for short runs turns and tight areas, pedestrian walkways, heavy-wear surface
Line Clear Coat
L-CC-L1
Level 1, Hand-Applied Epoxy, with Non-Taped Edge
Enhances durability