If you're looking for a line striping contractor who can update the pedestrian lines, aisles and other floor markings in your manufacturing facility, consider an expert like PennCoat! With experience working in all types of commercial/industrial facilities, we are one of the few specialty contractors who has the tools, equipment and expertise to work in pharmaceutical and food processing plants where strict protocols must be followed. Read on to learn more about a recent line stripping project completed at a pharmaceutical plant near Pennsauken, New Jersey and consider how we can help with your facility.
On this project, the building owner needed to remove existing 60 mil vinyl floor lines tape that outlined their pedestrian walkways. The tape had deteriorated from age and repeated forklift traffic. In addition, the lines had begun to lift from the floor and had become a trip hazard.
Thanks to multiple areas with limited clearance, and many corners, this job presented some unique challenges. In addition to performing the work while the factory was operating, which meant providing a range of containment systems, we had to complete each phase of work in only two days to minimize our impact on the busy plant.
To start, we prepared the surface using PennCoat's exclusively developed Level-3 Mechanical Diamond Grinding system to remove existing clear coats, surface contaminates and abrade the concrete substrate for the purpose of enhancing adhesion of the new lines. To accomplish this, we coordinated with an electrician to install 480v single-phase quick-connects that were necessary for our equipment at panels throughout the facility.
Next, we applied a Level-3 100% Solid Epoxy Line System with Primer, followed by a Level-2 High-Traffic Epoxy Clear-Coat with Taped Edge. As you can see from the gallery below, the new line striping system was a vast improvement.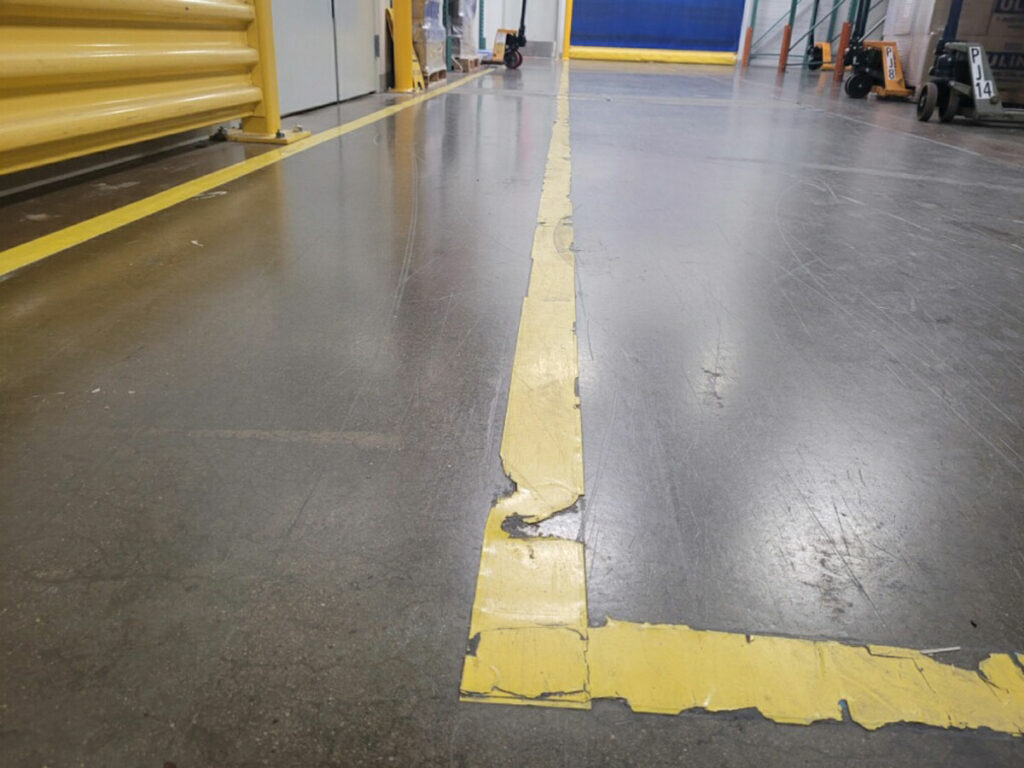 Even with the challenges of working while the facility was operating, setting up containment, coordinating with an electrician, and more, our team met the tight two-day installation timeline. We worked with factory operations to schedule the work in phases and zones, and used "quick cure" products to accelerate application of the line system.
Even more so, the rigors of working in a pharmaceutical plant required an elevated level of containment, cleanliness and care – and we are happy to report the project was a success on all fronts and in the PennCoat way: Neat, Clean, Safe – Done Right and On Time!
If you are looking for an expert line striping contractor who can work in just about any environment and solve just about any challenge, consider PennCoat for your next project. Our team is standing by and ready to make your next project a success. Contact us today to learn more. We look forward to hearing from you!
---
PennCoat's Standard Systems Used
Surface Preparation
L-SP-L3-R
Level 3, Mechanical Diamond Grinding – Removal
Removes existing coatings and contaminates and profiles concrete substrate
Line Coating
L-SA-HA-L3
Level 3, 100% Solid Epoxy Lines with Primer
Good for short runs, turns and tight areas, pedestrian walkways, heavy-wear surfaces
Line Clear Coat
L-CC-L2
Level 2, Hand-Applied Epoxy, with Taped Edge
Enhances durability, taped edge for a polished look