Oftentimes, when installing a new flooring system, we uncover issues that need to be addressed in order for the floor to function properly over the long term. As an expert commercial/industrial epoxy flooring contractor, we know how to ensure that your facilities' floors look clean, function safely, and hold up to decades of heavy wear and tear. Read on to learn how we can repair and replace expansion joints to keep your floor looking its best and functioning its best for the long term.
Recently, while installing a new resinous flooring system in a Hatfield, PA manufacturing plant, we ran into control joints that had become damaged from years of heavy industrial use. Control joints are important because they allow the concrete to expand and contract without causing additional cracking or damage to the slab and without causing damage to any adjacent structures.
Under heavy use, over decades, these control joints can break down, thus becoming a magnet for dirt and grime and also becoming a hazard to plant workers and equipment. Luckily, the commercial/industrial epoxy flooring contractors at PennCoat have decades of experience repairing damaged control joints and making factory floors brand new again.
To fix the damaged control joints on this particular project, we developed a process, communicated with building management, and performed the work safely and with minimal impact to the client's busy manufacturing schedule.
First, we cleaned out each joint and the surrounding damaged concrete. Then, using a specially-designed epoxy mortar, we patched the joint. Once the joint was cured effectively, we used grinding equipment to prep the surface and bring the repaired area flush with the surrounding floor.
Last, we installed a new control joint at the location of the existing, repaired, joint. We accomplished this by saw cutting a new groove, installing a backer rod, and then filling the joint using flexible epoxy joint material.
Check out the gallery below to see the process, including before and after pictures that demonstrate how even the most damaged industrial floors can be brought back to life safely, quickly and with minimal impact on your busy operation.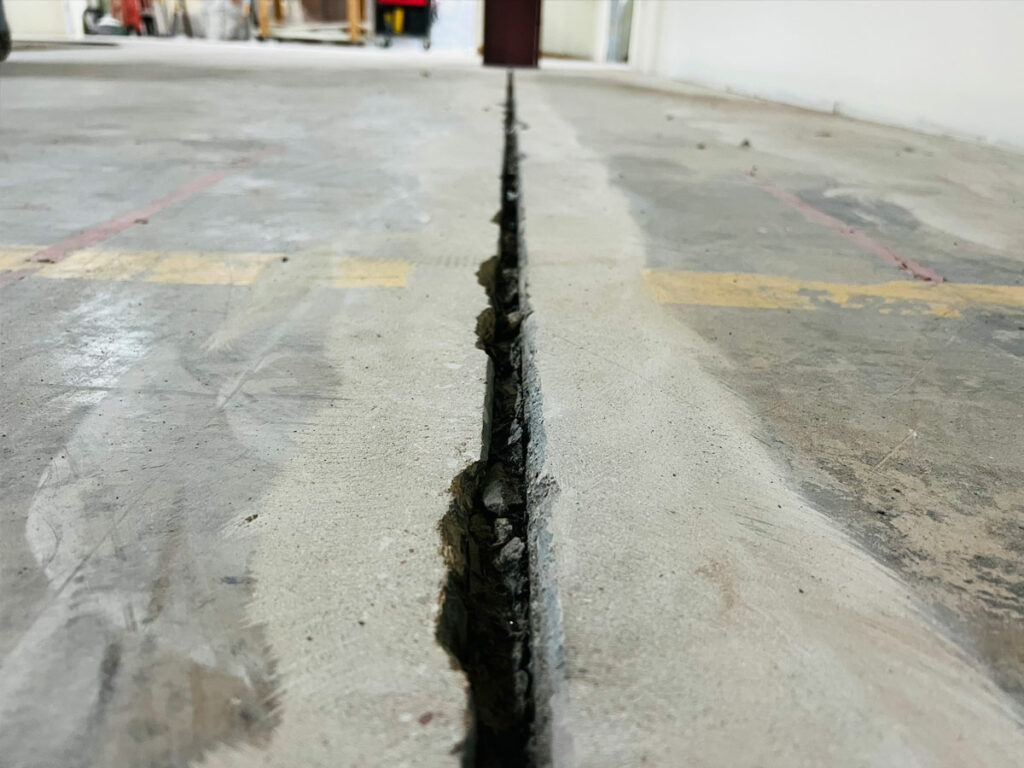 If you're interested in learning more about how the experts at PennCoat can fix, fill and patch your damaged concrete floors, contact us today. We look forward to helping you bring your factory floors back to life, while keeping your facility clean, neat and safe.