As one of the few specialty contractors who has the expertise and equipment to work in food processing plants, we are often called upon to assist facility owners with commercial/industrial epoxy flooring repairs in these complicated environments. In this project shown below, we developed a solution to repair damaged trench drains while adhering to strict GMP standards in a busy food processing plant in Baltimore, MD. Read on to learn more!
Often, harsh environments can wreak havoc on a poorly designed flooring system. And this plant was no exception. Thanks to regular use of chemical cleaning solutions, and an unstable concrete substrate, this client's existing 1/4" epoxy floor was delaminated and severely damaged. This was especially apparent around five assorted box drains and trench drains that had been installed in the floor over the years.
After building containments to protect the owner's surrounding operations and meet their GMP requirements, we cut out and removed the failed joint and coating materials until reaching a tight and stable substrate necessary to support PennCoat's floor repair system. We then installed PennCoat's heavy dusty food grade urethane cement mortar system which is designed to withstand hot water washdown and be applied to damp concrete surfaces — a common condition in food process areas with a limited window to perform the repairs.
Once the mortar was fully cured, we applied a chemical-resistant novolac epoxy coating designed to withstand harsh chemical attacks as well as prolonged exposure to damp conditions. Best of all, we performed the work quickly during a two-day plant shutdown. Check out the gallery below to see our work firsthand!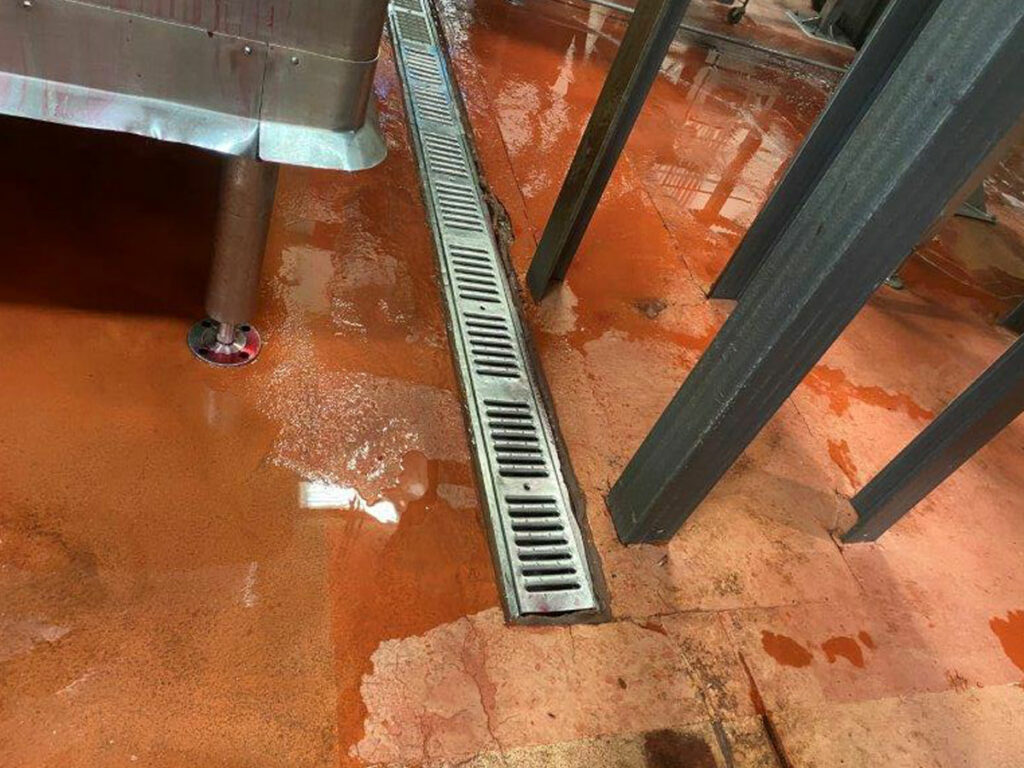 With the right knowledge, the right flooring system, the right equipment, and the right team, we're a commercial/industrial epoxy flooring repair service that leaves things Neat, Clean, Safe – Done Right and On Time!
If you have manufacturing facility or food processing plant with an epoxy flooring system that is in need of repair, contact the experts at PennCoat today. Our team is standing by to recommend the right fix for your unique situation. We look forward to hearing from you!
---
PennCoat's Standard Systems Used
Floor Repair
F-FR-MUC
Mortar Urethane Cement
Excellent thermal shock resistance, low odor, superior adhesion, moisture-tolerant and meets USDA, FDA & CFIA standards
Top Coats
F-TC-ES-N
Epoxy Solvent Novolac Immersion
Low VOC, good abrasion resistance and good resistance against chemical attack