At PennCoat, we love a challenge! And this unique epoxy floor installation project was no exception. As a leading commercial/industrial epoxy flooring contractor, we have the experience to come up with creative solutions for just about any situation. Read on to learn how our team created a beautiful new epoxy floor in a Norristown, PA manufacturing plant, where equipment footprints left us with a problematic starting point.
In many cases, busy factories install new epoxy flooring systems right over top of the old floor. But in many cases, they don't move their existing machinery or equipment before applying the new flooring. Then, when they eventually need to reposition their machinery, it leaves uncoated "footprints" where the machines once stood.
When reorganizing a production floor, this can be a problem because epoxy floor coatings are often ¼" thick or more. And that means the footprints left by the repositioned equipment need to be filled before completing the work in order to create a beautiful, consistent new coating.
In order to create a new floor in this facility, our team coordinated with plant management to complete the work during a scheduled shutdown. This allowed us to fill the resulting 1/4" gap with an epoxy mortar system that would bring 1,000 square feet of bare concrete machine footprints level with the surrounding epoxy-coated floor.
Once the footprints where the machinery once stood was prepared and leveled with an epoxy mortar, we prepared the entire 3,500 sf of surface with our mechanical diamond grinding system to abrade the floor and promote maximum adhesion. Finally, once the full floor surface was prepared, we installed two applications of self-leveling, 100% solid epoxy with a high wear finish.
As you can see in the gallery below, this process produced a beautiful, durable, and uniform floor throughout the entire facility. The footprints are gone, and the new floor looks spectacular.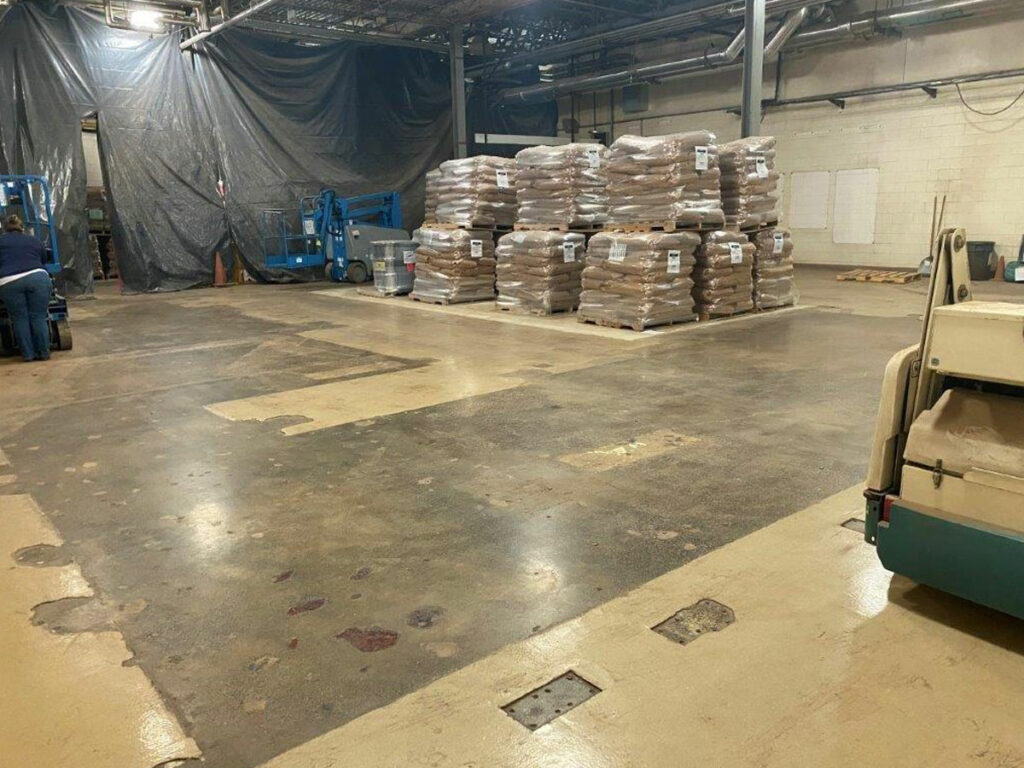 In order to complete this project, we had to work on a very tight four-day schedule, which included setting up containment walls to protect surrounding production areas. Thanks to good planning and communication, we were able to successfully complete the project in the PennCoat way: Neat, Clean, Safe – Done Right and On Time!
If you have a complicated flooring challenge, and you're looking for a commercial/industrial epoxy flooring contractor who can come up with creative solutions and deliver beautiful, long-lasting, durable floors, contact us today. Our team is standing by to discuss your needs and recommend a solution. We look forward to hearing from you!
---
PennCoat's Standard Systems Used
Floor Repair
F-FR-ME
Mortar Epoxy
Excellent thermal shock resistance, low odor, superior adhesion, dry conditions and meets USDA, FDA standards
Top Coats
F-TC-ESL
100% Epoxy Self-Leveling Epoxy
Stain-resistant, easy to clean, good color stability, durable