As a leading provider of line striping services for warehouses and distribution centers, we were happy to complete this project in a large facility located just outside of Philadelphia, PA. Our work included repainting over 25,000 linear feet of existing pedestrian walkways, egress and PIP charging station lines.
After communicating with building management, we determined that detailed pre-planning was necessary to meet the job's critical requirements. First, we would need to work in such a way as to create a minimal impact on the client's busy production schedule. Second, we would need to work quickly to meet an accelerated timeline. Thanks to strong project management, we were able to meet both of these requirements when performing the work.
After devising our installation plan in collaboration with the client, our team swung into action. Starting with a Level-2 Wet Clean surface preparation, we used a heavy-duty degreaser and mechanical scrubbing system to remove heavy contaminates and fork lift tracks from the floor.
To reduce emissions in their working warehouse environment, we utilized zero-emission battery operated industrial sprayers to apply 2-component, self-priming epoxy lines. This type of epoxy is known for durability and abrasion resistance. It is also compatible with damp surfaces and provides good adhesion on a wide array of coated floors.
We then followed with a Level-1 Hand Applied epoxy clear coat. This durable top coat enhances the longevity of the line striping system by reducing the potential for abrasion to the yellow and green floor lines. Check out the gallery below to see the work first hand!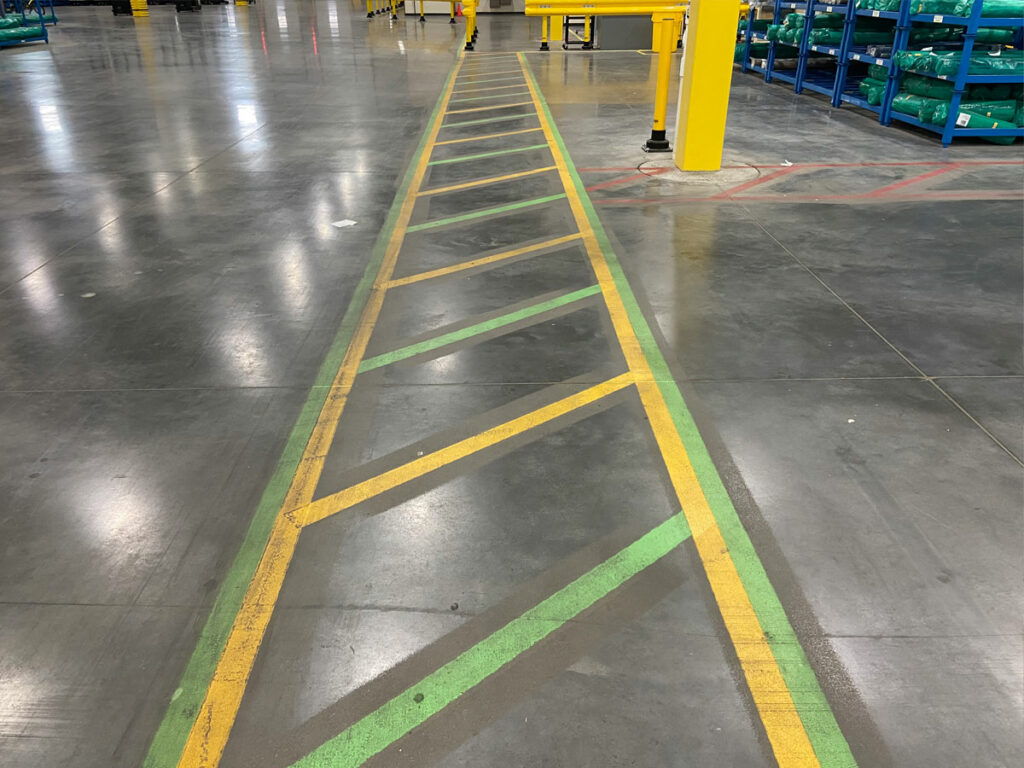 To make this project successful we coordinated closely with building management, scheduled multiple phases in order to work around busy operational schedules, and utilized a variety of cones, yellow caution tape, and temporary signage to redirect traffic around the work area.
All in all, we were able to complete the project in the PennCoat way: Neat, Clean, Safe – Done Right and On Time!
If you're interested in learning more about our line striping services for warehouses and distribution centers, we invite you to contact us today! Our line striping experts are standing by to discuss your needs and recommend the right solution. We look forward to hearing from you!
---
PennCoat's Standard Systems Used
Surface Preparation
L-SP-L2
Level 2, Wet Cleaning
Removes dirt, oils and other contaminates from painted surface
Line Coating
L-SA-SL-L2
Level 2 – Sprayed Lines, 2-Component Epoxy
Good for short runs turns and tight areas, pedestrian walkways, heavy-wear surface
Line Clear Coat
L-CC-L1
Level 1, Hand-Applied Epoxy, Non-Taped Edge
Enhances durability