At PennCoat, we work in a wide range of factories, manufacturing plants, and warehouses. And as a leading commercial/industrial epoxy flooring contractor and a top commercial/industrial painting contractor, we are often asked to bring old stair towers back to life.
This project, in a food processing plant in Eastern PA, involved giving multiple stair towers a much-needed facelift. It involved surface preparation, cleaning and coating a variety of surfaces in a way that would last for the long-term. Read on to see how we can improve the stair towers in your facility, and contact us today to learn more.
As you can see from the images below, this facility was dealing with a variety of failed coatings resulting from improper initial installation. With paint chipping and coatings delaminating, the building owners wanted a solution that would hold up over time and offer a high level of durability.
In order to perform the job, the team at PennCoat began by communicating with management to determine a project plan and timeline. With a tight schedule of 20 days, we had to work sequentially through the four stair towers while working as efficiently as possible to minimize our impact on the client's busy operation. Adding a layer of complexity, we also had to coordinate with a fabricator who was building and installing stainless steel rails on the project.
We began by sanding and diamond grinding the various surfaces to remove the existing floor coatings, and profiling the surfaces to address the existing coating failure. Once this was completed, we cleaned each surface thoroughly to prepare for the new coating installation.
Our team worked area-by-area to minimize the impact to these key access ways for building staff. We installed durable, long-lasting coatings on ceilings, stair undersides, railings, landings, treads, risers, doors and frames. All new coatings were color-matched to the existing finishes, and all work was performed in coordination with the fabrication contractor. We also installed anti-slip treads on each stair, and white rodent lines throughout.
In addition, we used color-stable, abrasion resistant, urethane coatings that would maintain their brilliant white color for the long term, thus keeping the client's facility looking sharp for years to come.
Not only did we complete the installation successfully, but we performed the work in close collaboration with building staff and other contractors to ensure no down time between trades. This means we complete the job quickly, and with minimal impact to the client's busy manufacturing plant.
Browse the gallery below to see our work on this project, and imagine how PennCoat can help polish your facilities' stair towers with long-lasting, durable coatings.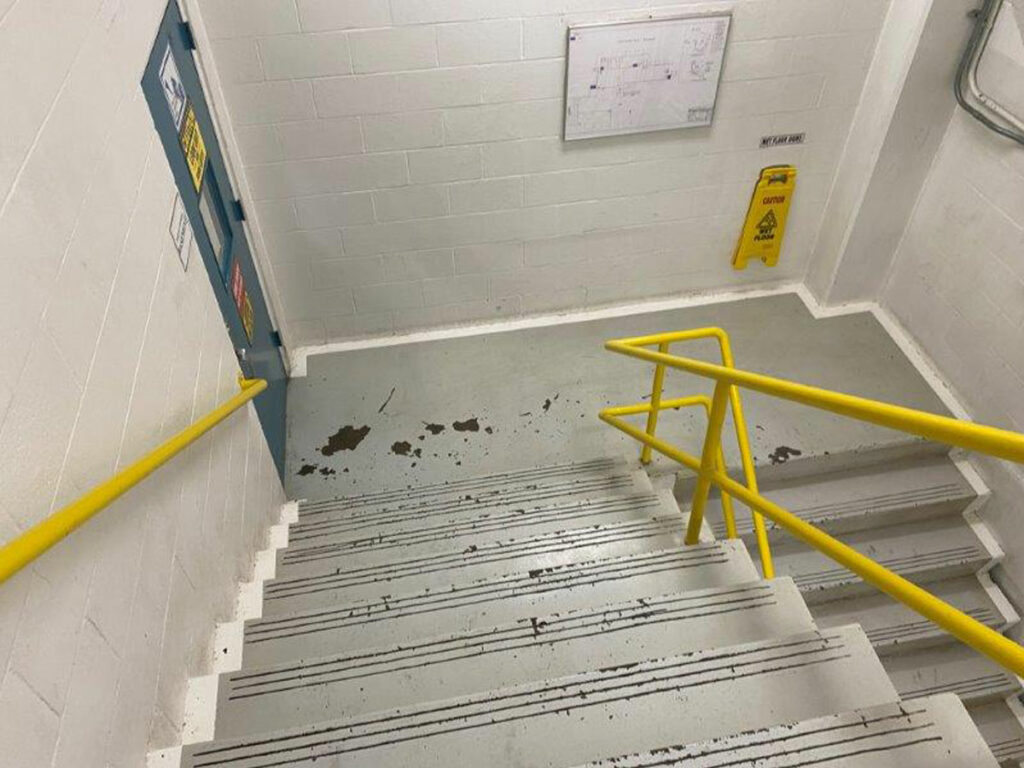 If you're interested in discussing your plant's stair towers, floors, or other infrastructure, contact us today. We look forward to meeting you and determining how we can help keep your facility clean, safe and looking sharp!