Thanks to decades of experience as a leading commercial/industrial painting contractor, we know how to work in unique manufacturing environments. And this project, where we were asked to paint a cold process room in a dairy plant, is no exception. Read on to learn more about our process, and see the results we achieved in only two days!
This project included a few key challenges that our team was able to overcome thanks to good communication, smart planning, and efficient work.
First, the room was surrounded by refrigeration units and unheated, with surface temperatures of 42 degrees. Second, the surfaces were covered with years of grime and rust which could hinder adhesion and cause future issues. The room would ultimately house a new process line and therefore avoiding future coating issues was critical. Last, the factory would be operating during the installation process and could not allow paint odors into the surrounding areas.
Pulling from our experience working in similar environments we developed a solution that would last for the long-term. To start, we steam cleaned the wall surfaces using a plant-approved detergent. Next, we used a high-pressure nozzle to remove corrosion from the ceiling, and then washed the entire ceiling with a salt remover to impede future corrosion.
Once the surfaces were clean, we set up a ventilation system to exhaust fumes via a loading dock door, and set up portable heaters to eliminate moisture while bringing the space up to a temperature that would allow our applied surface coatings to properly cure.
After protecting the floor, the pipes and other pre-finished items were covered and contained, failed wall panel joint sealants were replaced, and remaining wall surfaces were detailed for painting. To prevent the possibility of a flash point fire, we turned the heaters off during the paint phase.
On the walls, we installed a cold-cure, polyaspartic, non-yellow coating with tenacious bonding properties that was suitable for cold installation. This solution also minimized odor thanks to its low level of evaporation.
Once they were fully cured, we covered the walls and moved on to the ceiling. The ceiling was coated with a self-priming, high build, rust-preventing, elastomeric coating with low VOCs that's perfect for use in food processing facilities.
Once the ceiling was complete, we removed our equipment, heaters and containment, and left with only a perfectly-finished room remaining. Check out the gallery below to see the results of this complicated project.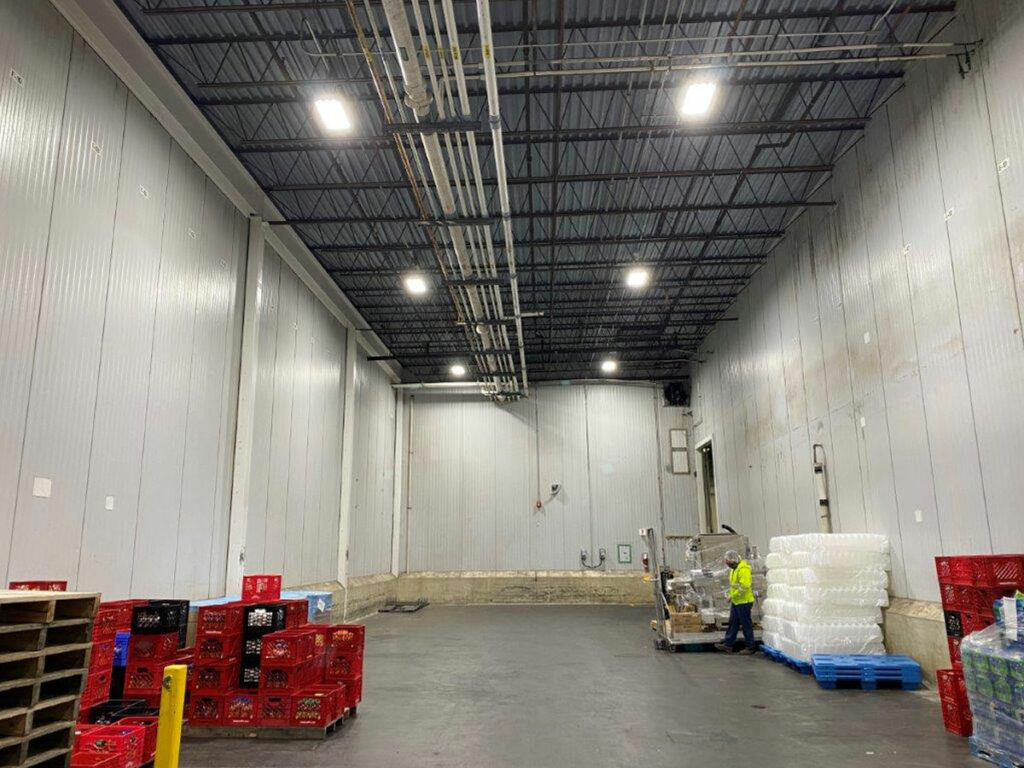 If you're looking for a commercial/industrial painting contractor with the experience to work safely and efficiently in your facility, and you need your walls, ceilings or floors professionally coated, contact us today. We look forward to discussing your needs and recommending a solution!