The owner of a large Pennsylvania dairy plant recently contracted PennCoat to install 2,800 sf of 3/8" industrial urethane cement flooring in a cold storage area while the plant was operating. And as a leading commercial/industrial urethane cement flooring contractor, we knew how to deal with this unique installation environment.
First, we installed several sample areas so that management could verify that slip coefficient friction was suitable for sliding materials while still providing safe anti-slip foot traction. Then, once the client made their selection, we swung into action.
The major challenges present on this project included:
Air and floor temperatures ranged between 35°- 37°F.
The plant needed to operate during installation, so the project was coordinated over 8 separate phases.
The material had a 10-minute working time and was mixed 300' feet from the installation area.
Containment and special care were taken to protect the plant's product during installation.
Due to the low temperature, each phase required 3-full days to cure before being put back into operation.
The existing floor was ponding and water was not diverting towards the drains.
Working very closely with the plant Engineer, Construction Manager and Plant Maintenance team, we completed each of the 8 phases of the project with stellar results.
Prior to starting the project, we pre-rigged the plant's 3-phase power connections to the overhead structure so that they could avoid repetitive rigging throughout the project phases. We built containment areas to protect the rest of the facility and valuable product, and we removed the existing steel tiles.
Next, we prepared the floor with PrepMaster equipment fitted with PCD blades that not only removed existing mastic glue but created an aggressive profile to enhance the mechanical bonding of the new resinous flooring system.
One of the most overlooked details when installing resinous flooring is keying to reinforce the transitions between drains and adjacent areas. Our standard is to install ¼" detailed grooving or "Keyed Edge Transitions" at all perimeters and drain edge.
To address the lack of sloping and bellies, and to prevent water ponding, PennCoat installed ¼" stainless steel terrazzo strips that when shimmed would bridge across the low areas of the floor and create a gage to assist with infilling and diverting water towards the center drains. This method successfully prevented water ponding issues.
Once the terrazzo strips were in place, we installed a cold cure phenalkamine epoxy on the existing chamfered cove base, along with a urethane cement trowel grade mortar, at an average thickness of 7/16".
After each section of floor was installed and allowed to cure, it was put back into operation and the next phase was started. Check out the image gallery below to see this project from start to finish!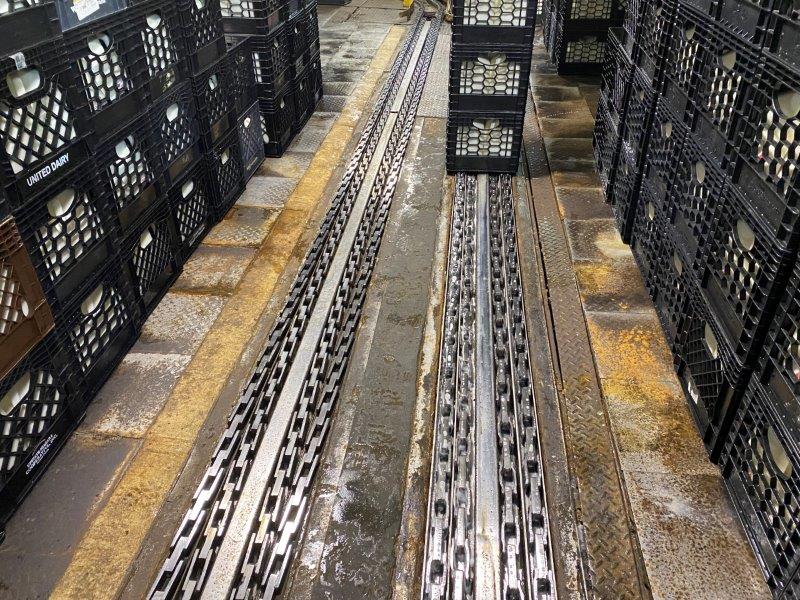 If you're looking for a urethane cement flooring contractor for your complex commercial/industrial flooring project, contact us today. The team at PennCoat is ready to help execute your next project with planning and precision!