This unique project shows how we helped a food processing plant resolve a peeling ceiling paint issue over manufacturing equipment in a critical process room – in only six days.
Our challenges included a tight schedule, as well as tight ceiling access due to density of equipment and pipes. In addition, we had to complete a very dirty job in an environment that required a very high level of cleanliness. As a leading industrial ceiling painting contractor, our team was able to prep the area, contain the work, and complete the project quickly and professionally.
To start, we resolved the access issue by building a full platform that spanned the entire 8,000 square feet of floor space, while working within 6'2″ of the ceiling surface.
Next, after double wrapping the process equipment and pipes with both 4mil and 1.5mil plastic, we sealed all plastic seams to prevent water or paint from contaminating the plant's equipment. We then prepared the surface using a 4,500 psi spray of warm water and detergent to remove process oils and the existing loose, failed ceiling coating.
After the surface preparation was completed, we thoroughly dried the room while keeping the containment in place over the process equipment. To control debris from the painting process, we covered the entire scaffolding platform with 6mil plastic to create a barrier.
Once all the containment controls and ventilation were in place, we applied two coats of a USDA-approved white, acrylic, elastomeric, 55% solid breathable coating to the entire ceiling structure for a total dry film thickness of 20mils.
When cured, this coating is washable, mildew resistant, and remains completely flexible while significantly increasing light reflectivity. Due to its extreme elasticity, it won't chip, crack or peel like most paints when they become brittle, and it won't fail to adhere to a marginal or contaminated surface.
Check out the images below to see the process, from initial walk-through, to containment, prep and the final results.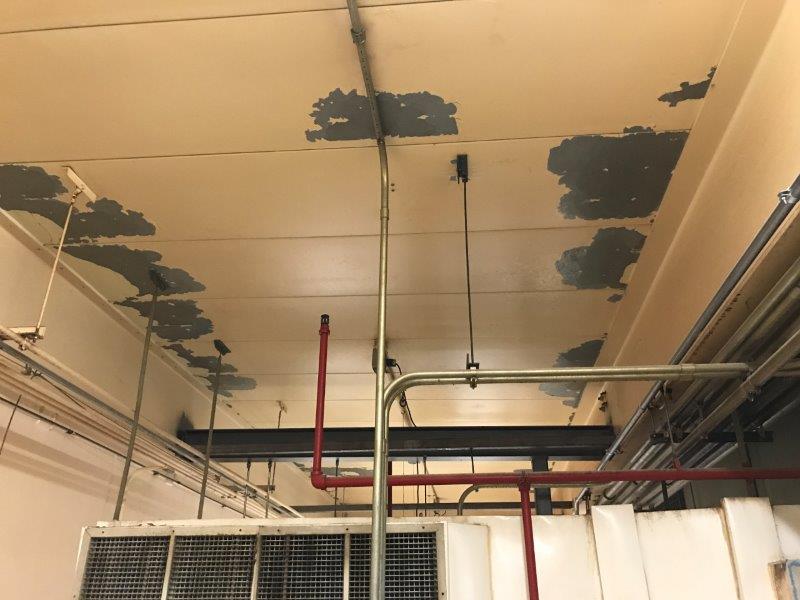 If you're looking for an industrial painting contractor who can help problem-solve and bring your facility back to a clean, safe and tidy state, contact us today. Our team of painting and coating experts is ready to help.