If you're looking to take your facility to the next level, you might be considering an industrial painting contractor or industrial epoxy flooring contractor to take on your project. However, not all commercial or industrial contractors are created equal, which means there are a few key points to consider before you make your decision.
From safety floor markers and line striping to industrial painting and epoxy floor coatings, the PennCoat team can provide a complete solution that will help your facility look and function at its best. But that's not all we do when working in complex commercial environments! Keep reading to learn what to look for in a contractor, and contact us today for more information.
Knowledge to Recommend the Right Solution
Your industrial epoxy flooring contractor or industrial painting contractor should have the knowledge and experience to be able to review your current needs and recommend an appropriate solution for your facility. There's nothing worse than spending time, money and energy to hire a company for a job only to realize months or years later that the problem really stemmed from a separate issue that was never correctly identified.
At PennCoat, we know how to accurately evaluate your needs and help solve your problem correctly the first time. We'll test for hydrostatic pressure and other common failure points, while examining the adhesion of your existing coatings to avoid failures from the start. We'll take into account variances in environmental conditions that impact adhesion and performance. We've established SOPs, or installation standards, that help to control the sequence and details of an installation. Our systems are built on a track record of success and cover containment requirements, surface preparation, application processes and specified recoat windows. Best of all, our highly-trained technicians know how to work quickly, efficiently and with minimal impact to your operation.
Experience Working in Unique and Complex Environments
Not only should your commercial epoxy flooring contractor or industrial painting contractor be able to understand the unique needs of your facility, but your potential future contractor should also know the ins and outs of working in unique and complex environments. Whether it's adhering to current safety standards, working with minimal disruption, or recommending the solution that best meets the unique needs of your facility, knowing how to effectively complete a job in a busy manufacturing environment can mean the difference between success and failure.
From PPE to planning to prepping the area, project management and beyond, the PennCoat team knows how to work in complicated environments, including manufacturing and pharmaceutical facilities, stadiums and arenas, food processing facilities, warehouses and more. That means we coordinate closely with your facility manager, and go the extra mile to deliver a superior project. We're used to working in confined spaces, and trained on lock-out tag-out procedures. We'll review the site, set up containment, and make the project as easy on your team as possible. In short – we take your best interests to heart, and we're ready to put our experience and knowledge to work for you.
Commitment to Safety
When working with a commercial/industrial contractor, it's important that you partner with a company who not only provides high-quality, comprehensive painting and flooring solutions but who is also committed to keeping your facility, employees and patrons as safe as possible. Above all, look for an epoxy flooring contractor who shows up with the correct, site-specific PPE, tools and materials and who will be a resource you can count on to work safely, quickly and get the job done right with minimal impact to your operation.
Whether you need painting or flooring solutions, the key to safety is training, buy-in and consistency. As an Avetta-trusted, ISN member, PennCoat has established a safety program that has earned PA-accredited certification for more than 30 years. Every PennCoat team member attends and participates in a company-wide safety meeting, and we reinforce the monthly topics through weekly toolbox talks. In addition, we write a site-specific safety plan for every project we install. The buy-in comes through morning safety huddles in which we review and expand on the safety plan. Our monthly meeting also has an open-forum session to discuss near-misses and accidents with a no-consequences policy for those individuals who risk being forthright. By continuing this simple safety practice, we've established a culture of safety that quickly becomes contagious to our new team members.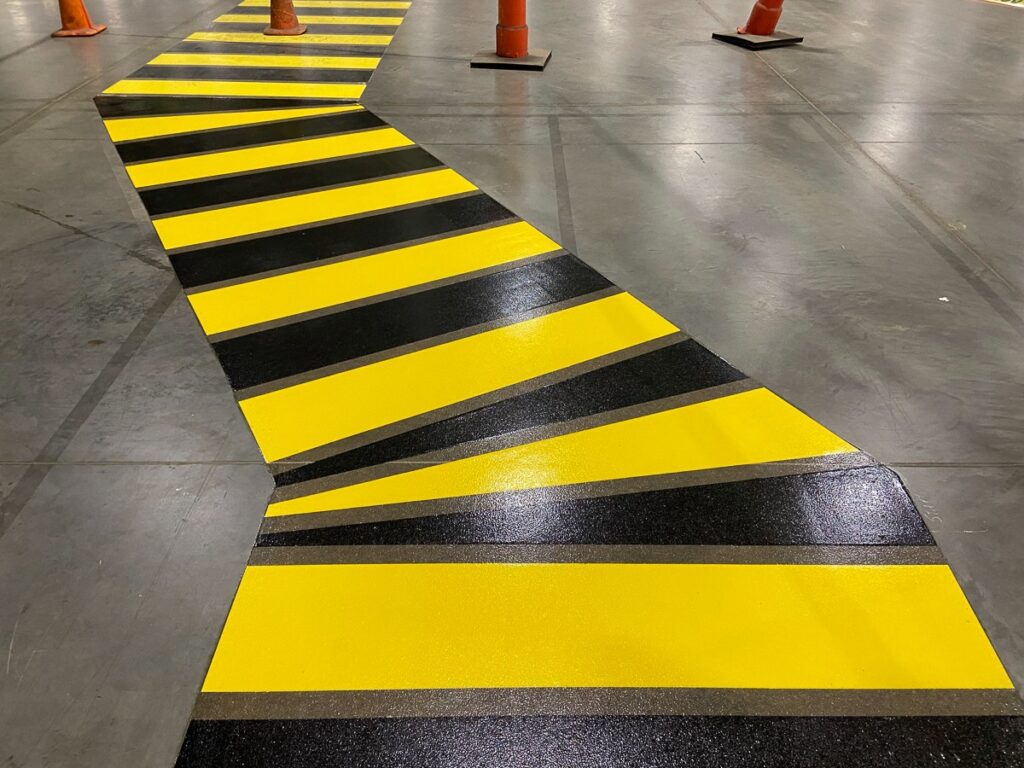 Ready to Learn More?
At PennCoat, we help building managers keep their facilities neat, clean and safe while doing the job right and on time. If you're looking to work with an industrial epoxy flooring contractor who can overhaul your building from floor to beams safely and quickly, contact our team today. We look forward to hearing from you!