Commercial Painting and Epoxy Flooring Contractors in Montgomery, PA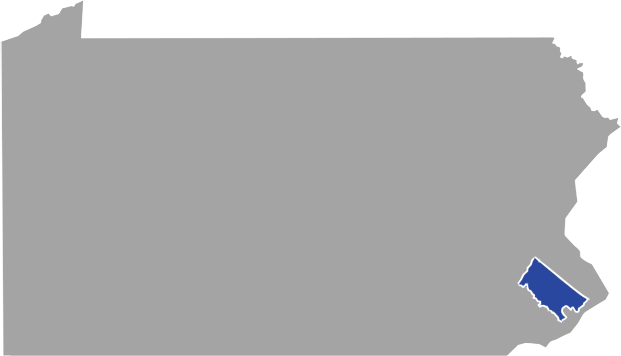 INDUSTRIAL PAINTING : EPOXY FLOORING : COMMERCIAL PAINTING
Montgomery County serves as the home for some of the nation's largest steel and pharmaceutical manufacturers. This abundance of production benefits Blue Bell, Landsdale, Fort Washington, Horsham, and more areas within Montgomery County.  And with so many manufacturing facilities, there is a need for exterior and interior painting, epoxy flooring, concrete polishing, and safety flooring in Montgomery County.
OUR Montgomery Contracting Services Include
Montgomery County, Pennsylvania
Montgomery County, PA is a suburb of Philadelphia. It shares many economic and industrial characteristics with Philly and the rest of the Delaware Valley. However, it is notable for its wealth, as well as the number of high-tech jobs available in industries such as health care, professional services, information technology, and manufacturing. It is also a major retail tourist destination. The county is sometimes referred to as "MontCo," and has a strong need for industrial painting, commercial painting, and epoxy flooring.
MONTGOMERY COUNTY, PA'S HISTORY AND ECONOMY
Montgomery County, PA was created from land that was originally part of Philadelphia County, in 1784. It lies to the northwest of the city of Philadelphia. Today, Montgomery County is included in the Philadelphia Metropolitan Statistical Area, along with several other suburban counties and commercial painting in the Delaware Valley.
Historically, Montgomery County had a number of isolated, industrial towns surrounded by undeveloped, rural land that was primarily used for agriculture.
The number of farms in Montgomery County has been dropping, despite the county's recent efforts to preserve farmland, and only 596 were counted in the Department of Agriculture's most recent Agricultural Census in 2012. This is down from more than 2,000 farms in the 1950s.
Montgomery County has transformed over time, with its greatest period of development being from the 1970s to the early 2000s. The existing towns have grown, but new development has also occurred independent of these towns. Today, much of Montgomery County is suburban, with residential properties covering about one-third of the county's land. The county is also now home to a number of large industrial and office parks that have been built further and further away from the city of Philadelphia, but still require commercial and industrial painting and epoxy flooring.
The population of Montgomery County is 812,376, as of 2013 estimates. Montgomery County has 6 home rule municipalities, including the county seat of Norristown, PA, and has a strong desire for commercial painting contractors. It also contains 22 boroughs and 34 townships, and a need for epoxy and polyaspartic flooring installers. The most populous municipalities are Lower Marion Township and Abington Township, which each have over 50,000 residents.
Montgomery county is unique in that it has a net gain of commuting workers. Approximately 64,000 residents of Montgomery County commute into Philadelphia County for work. However, approximately 68,000 residents from Philadelphia "reverse commute" into Montgomery County for work. It is the only county in the region which has more workers traveling from the city to the suburbs than from the suburbs to the city.
Montgomery County is also noted for its affluence. It had a median household income of over $79,000 for the years 2009 to 2013, which is higher than the state of Pennsylvania's average of $52,000. This made it the 51st wealthiest county in the nation, in 2010. As of 2011, it held AAA ratings from major credit ratings companies – at the time, it was one of only about 30 counties in the nation and three in Pennsylvania to earn this highest rating.
HEALTHCARE AND PHARMACEUTICALS IN MONTGOMERY COUNTY, PA
Nearly 16% of Montgomery County, PA's workforce is employed in healthcare, more than any other segment. Plus, the pharmaceutical industry's stronghold in the region adds even more jobs in the professional services and manufacturing sectors, as commercial and industrial painting become more demanded.
The entire Delaware Valley region is an important hub for the healthcare, pharmaceutical, and biotechnology industries. More than 90 percent of pharmaceutical companies have a presence in Montgomery and nearby counties, and require their clean rooms to be seamlessly coated with industrial paint and commercial paint.
The largest private employer in Montgomery County is a pharmaceutical company, which operates two campuses in the county, containing offices, research and development laboratories, and manufacturing facilities.
In Montgomery County, four of the top 10 employers are in the health industry – two major pharmaceutical corporations and two hospitals. In 2014, the occupations with the second and third highest number of available jobs in MontCo were registered nurses and medical scientists.
RETAIL AND TRADE IN MONTGOMERY COUNTY, PA
Retail is Montgomery County's second-largest industry. Two of the county's top 10 employers and epoxy flooring installers are in the retail sector. This entire sector employs over 13% of the workforce, and retail sales was the occupation which had the largest number of available jobs in 2014 (with retail supervisors also in the top 10). Retail sales totaled more than $15 billion for MontCo in 2007. Wholesale trade made more than $12 billion in the county that year.
Montgomery County is home to the largest shopping mall in the United States, at more than 2 million square feet of retail space, in King of Prussia, PA. It contains over 400 retail stores and 3 food courts, and it brings in over $1 billion in sales a year. This mall employs over 7,000 people, and requires routine touch ups and commercial painting. It is also a popular tourist destination, and it is estimated that 20 to 25% of the mall's visitors are tourists. The mall is also currently in the process of an expansion which will add 50 new stores and epoxy flooring and to be completed by 2016.
There is also an outlet center, located in Limerick Township, PA, and a significant number of smaller indoor malls and outdoor shopping centers throughout Montgomery County.GET AN ESTIMATE FOR YOUR FACILITY IN MONTGOMERY
PROFESSIONAL, SCIENTIFIC AND TECHNICAL SERVICES IN MONTGOMERY COUNTY, PA
The third-largest economic sector in Montgomery County is professional and technical services, and this sector has seen the most growth in the county since 2001. The two fastest-growing sub-sectors have been scientific research and development and accounting services.
This industry had the highest number of growing companies in Montgomery County in 2014. Some of the highest-growth occupations in this area, as tracked by active job advertisements in 2014, include computer systems analysts, software application developers, marketing managers, office managers, and customer support representatives.
Montgomery County is also said to lead the state in "high tech" jobs – in addition to those in the health care and biotech industries, this includes jobs in the fields of computer science, information technology, telecommunications, aerospace, and more. They are on the cutting edge of technology and their office facilities can benefit from commercial painting services.
Blue Bell, PA, is home to the headquarters of a major information technology services and software company, which sells its products mainly to corporate and government clients. King of Prussia, PA, includes a facility run by a leader in the aerospace, defense, and security industries. Conshohocken, PA, is also the headquarters for the largest American-owned security company.
MANUFACTURING IN MONTGOMERY COUNTY, PA
Although manufacturing accounts for fewer jobs now than it did in the past, Montgomery County is still the leader in the state, with more manufacturing jobs than any other county. Much of this is in the production of pharmaceutical and biomedical devices, but there are some remaining manufacturers in other fields that require industrial painting and epoxy resurfacing. It currently employs slightly less than 10% of the workforce, down from nearly half the workforce at its height. Manufacturing also contributed more than $20 billion in revenue in 2007.
Conshohocken, PA, is the headquarters for a number of significant corporations, including a famous bridal wear retailer. It is also home to the U.S. corporate headquarters for the largest furniture retailer in the world, which specializes in ready-to-assemble furniture.
Other major corporations with headquarters in Montgomery County include a furniture manufacturer – whose products are used in home, office, and educational settings, and whose designs are part of the permanent collection of the Museum of Modern Art in NYC – and a company which makes plastic construction toys and epoxy flooring, in Hatfield, PA.
There are also around 70 food processing facilities remaining in MontCo; the majority of these are meat processing plants, all requiring commercial painting, epoxy flooring and urethane cement to maintain a clean and sanitary work environment. Agriculture still accounts for more than $25 million in revenue annually, with approximately $7 million of this from livestock and poultry.
OTHER IMPORTANT INDUSTRIES AND FACILITIES IN MONTGOMERY COUNTY, PA
Oaks, PA, in Montgomery County, is the location of a privately owned expo center, which is one of the largest exhibition facilities on the east coast. This facility hosts over 300,000 visitors and commercial painters annually for trade shows, festivals, and sporting exhibitions.
Since 2012, Montgomery County is also home to a casino – the region's fourth, but its first "resort casino" – which brings in $18 million in revenue annually to King of Prussia, PA.
Part of Valley Forge National Historic Park is located in MontCo, with the current village of Valley Forge and the remainder of the park located in neighboring Chester County. It was the first state park in Pennsylvania, established in 1893, and became a national park in 1976. The park contains historic structures from the Revolutionary War encampment as well as recreational trails. It draws over a million visitors in Montgomery County each year.
Montgomery County was previously home to the Willow Grove Naval Air Station, which closed in 2011. This loss was expected to have a large impact on the local economy, but the property is expected to be redeveloped with the help of industrial painters, commercial painters, and epoxy flooring installers.