Philadelphia Painting and Epoxy Flooring Contractor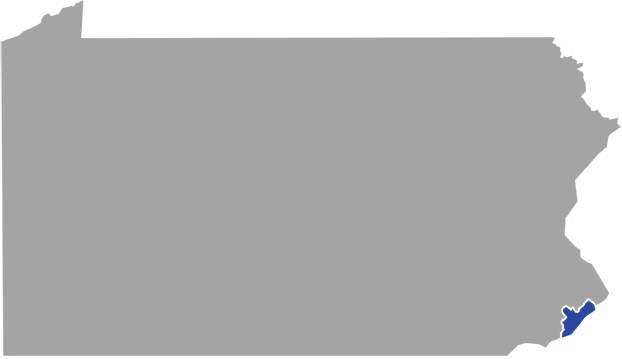 INDUSTRIAL PAINTING : EPOXY FLOORING : COMMERCIAL PAINTING
Although small in land area, Philadelphia County is the most populated county in Pennsylvania. As a business staple, Philadelphia county provides industrial, commercial, retail, and many other occupations in the area. Commercial and industrial painting contractors offer a valuable service, helping to maintain the aesthetics, and surface performance for many buildings. And epoxy flooring contractors in Philadephia can offer a valuable service by installing urethane cement floors to help protect concrete slabs from deterioration and corrosion.
OUR Philadelphia Contracting Services Include
COMMERCIAL PAINTING, INDUSTRIAL PAINTING, CONCRETE POLISHING, AND EPOXY FLOORING IN PHILADELPHIA
Philadelphia, Pennsylvania is most often referred to as "The City of Brotherly Love." However, its historic importance in the manufacturing and distribution of products has led to another nickname: "Workshop of the World." And industrial and commercial painting contractors, and epoxy flooring contractors from Philadelphia have helped these manufacturing giants, with protective and long-lasting coatings. While the manufacturing industry is no longer the biggest part of Philadelphia's economy, it has been gradually replaced with businesses in other industries such as government agencies, healthcare and life sciences, education, trade, professional services, and tourism. But that's not to imply that the need for commercial and industrial painting has been replaced. These upcoming sectors still benefit from coating services.
PHILADELPHIA'S HISTORY AND ECONOMY
Philadelphia, PA was founded as the capital of the Pennsylvania colony, by William Penn, in 1682. It was instrumental in the creation of the United States, and previously served as a temporary national capital. This background has contributed to its ongoing popularity as a tourist destination, manufacturing, federal government facilities, and industrial facilities. And because of all this foot traffic, Philadelphia epoxy flooring contractors can provide a valuable service for these critical walking paths.
Philadelphia is the fifth-largest city in the U.S., and largest in Pennsylvania, with a population of more than 1.5 million people. Its population has risen each year from 2006 to 2013, after a 50-year-long period of decline. According to the Pew Trust's Philadelphia Research Initiative, Philly's population is also becoming more diverse, with a higher percentage of well-educated young adults.
The Delaware Valley, which includes Philadelphia and surrounding counties from New Jersey, Delaware, and Pennsylvania, is part of the seventh-largest Metropolitan Statistical Area (MSA) in the United States. This region is also sometimes called Greater Philadelphia. It had a Gross Domestic Product (GDP) of $383 billion in 2013. The GDP for Philadelphia City/County alone was more than $78 billion in 2011. The Delaware Valley is also the fourth-largest media market in the country, as measured by Nielsen.
More than 230,000 residents from surrounding counties commute into the city to work. Over 150,000 city residents also "reverse commute" to the suburbs to work – most to Montgomery, Bucks, and Delaware Counties.
MANUFACTURING AND SHIPPING IN PHILADELPHIA, PA
Manufacturing was the largest contributor to the economy of Philadelphia, PA, up to the mid- 20th century, and once provided more than half the city's jobs. The region also became a center for distribution, thanks to its railway hub and ports. Manufacturing, specifically food and pharmaceutical, are scrutinized to be excessively clean and well maintained. Interior facilities cannot have chipping or failing paint, and require reliable commercial and industrial paint. The paint must adhere to the surface, prevent rusting, offer flexibility for expanding/contracting substrates, and seal cracks and crevices. The floors and joints must be seamless to reduce the chances of insects and rodents breaching the facility. Epoxy floor coatings serve as an excellent top coat, but need to be installed by a competent and experienced epoxy flooring contractor from Philadelphia. It is fluid, and can be spread easily, while reaching difficult areas. Epoxy does have its limitations. So in the situations where a stronger floor is required, urethane cement will be the best solution.
Philadelphia once boasted one of the largest ports in the country, despite the fact the Atlantic Ocean is over 100 miles away. It also became a center for shipbuilding – initially helped by the availability of trees – and held a major Navy shipbuilding yard that was active through World War II. The Port of Philadelphia remains notable despite it now being only the 23rd busiest port in the country. It is the most popular port for the import of certain commodities, including food from South America, and it has been designated as one of 14 Strategic Commercial Ports by the U.S. Department of Defense since 2002. It has also been considered the largest "freshwater" port in the country, although some of the waterways that lead from the ports to the Atlantic Ocean, the Delaware River and Delaware Bay, contain salt water.
The practice of shipbuilding requires specific commercial paints that are water tolerant. Because the bow of a ship is submerged underwater, it is important that an industrial or commercial paint be applied, that can withstand exposure to potable water. Additionally, boats are exposed to excessive sunlight. Standard oil and acrylic paints are vulnerable to UV rays, and will fade and damage. But industrial urethane paints, or industrial epoxy paints can maintain strength and integrity a lot longer, making them preferred paints for ship builders.
The Pennsylvania Railroad – the largest railroad company in America during the first half of the 20th century – and the Reading Railroad both had their headquarters in Philadelphia. Today, Amtrak provides rail service to the city, and the 30th Street Station is the nation's third-busiest station for passenger service. The Southeast Pennsylvania Transportation Authority (SEPTA) maintains buses, trolleys, trains, and other public transportation throughout the Philly region.
Railroad painting is a challenging application because of the high temperatures the substrate is exposed to. Standard commercial or industrial paints will wither and wrinkle and disintegrate in temperatures above 150 degrees. But paints with a "mica" additive, and additional chemical adjustments, have been able to tolerate surfaces as hot as 500 degrees.
Philadelphia has always manufactured a wide variety of products, unlike many cities where the majority of work was dominated by a few major industries or companies. This led to some calling it the "Workshop of the World." At one time, Philly had factories and businesses which covered 90% of the industries tracked by the U.S. Census.
From textiles and metals to foods to chemicals to pharmaceuticals, the extreme diversity of items produced in Philadelphia's craft shops, factories, mills and plants was a strength for the city. Most of Philly's manufacturing businesses were small- to medium-sized, rather than large corporations. These businesses tended to be highly specialized, focusing on a single aspect of production or a niche market, rather than large companies which mass produced standardized items from start-to-finish.
However, since the end of World War II, manufacturing has been on the decline in Philadelphia and the surrounding areas. It now accounts for less than 4% of Philadelphia's jobs, but still contributes $18 billion in revenue to the economy.
GOVERNMENT AND FINANCIAL INSTITUTIONS IN PHILADELPHIA, PA
Even though Philadelphia, PA, is no longer the national or state capital, its history means that several important federal facilities are still located there. Over 100,000 people, nearly 17% of Philadelphia's workforce, are employed by public agencies. The Federal Government (with more than 50,000 employees) and local government (with over 25,000 employees for the combined city/county government) are the city's two largest single employers.
Philly is home to part of the United States Mint. It was the site of the first mint in the nation, and remains the largest of the four current coin-producing facilities. Coins produced here bear either a "P" or no mint mark.
The Federal Reserve Bank also has a division based in Philadelphia. This is one of twelve regional banks in the Federal Reserve System, and it covers the Third District, which includes parts of Pennsylvania and New Jersey and all of Delaware. The Fed is responsible for setting the nation's monetary policy, and it also conducts and publishes research on the national and regional economy. Although its territory is one of the smallest in the Federal Reserve System, Philly's Fed maintains its importance to the financial community through its monthly manufacturing index and other publications.
Philly is also home to the Philadelphia Stock Exchange, which is the oldest stock market in the country. It was acquired by NASDAQ in 1998.
In addition to several local and state courts, two federal courts are located in Philadelphia: the United States District Court for the Eastern District of Pennsylvania, and the United States Court of Appeals for the Third Circuit (which has jurisdiction over five districts or territories, covering all of Pennsylvania, New Jersey, Delaware, and the Virgin Islands).
HEALTHCARE AND EDUCATION IN PHILADELPHIA, PA
Today, healthcare has grown to become one of Philly's largest industries, employing more than 25% of the county's workforce in 2012. It is the second largest regional center for medical research and medical education. The region's 18 hospitals bring in more than $9 billion a year in patient revenue. There are also over 150 medical research laboratories, which were awarded over $767 million in research grants from the National Institutes of Health in 2013.
Hospitals are often subject to germs, viruses, and bacteria, making it vital that their facilities remain clean. Seamless epoxy flooring helps prevent disease vectors, such as rodents and insects, from entering the premises, contracting the disease, and spreading it throughout the facility. But if the area requires something stronger than an epoxy floor, a urethane cement coating will offer the seamless protection of an epoxy. But beyond that, urethane cements also prevent mold or mildew growth, preventing airborne contaminants from the facility.
The pharmaceutical, biomedical, and health IT industries also have a strong presence in Philadelphia, and much of the remaining manufacturing in the region is making these drugs, medical devices, and other technology. 90% of the pharmaceutical industry has a presence in the Delaware Valley region, with the U.S. headquarters of at least one major company in the city of Philadelphia, one that is in the Fortune 500 with its headquarters in Chester County, and another with its headquarters in New Jersey. Many of the largest life sciences companies have several facilities in the region.
And all of these facilities are subjected to FDA inspection. FDA inspections require these facilities to be clean, with no crevices, cracks, or loose or chipping debris. Product contamination is one of the biggest threat for pharmaceutical manufacturers. So industrial and commercial paint offset the chance of contamination, by coating and sealing the substrates of the walls, ceilings, and structural support. Epoxy flooring fills crevices and gaps that create opportunity for contamination. By sealing those gaps, there is less of a change for rodents or insects entering the facility. So epoxy flooring and industrial and commercial painting are common contractors seen in these manufacturing facilities.
More than 10% of the county's workforce is employed in the education field. There are more than 30 colleges and universities in Philadelphia county, with many more in the surrounding areas. They contribute more than $6.7 billion in revenue.
Philadelphia is home to five medical schools, three pharmacy schools, and at least three schools of nursing. These institutions are also affiliated with some of the area's hospitals and research facilities, and they are some of the largest private sector employers in the region – representing eight out of the top 10 private employers in the county.
TRADE AND PROFESSIONS IN PHILADELPHIA, PA
Trade, transportation, and utilities is the third-largest employment sector in Philadelphia, with more than 15% of the labor force. And commercial painters and epoxy floor installers make up a large fraction of the labor force. With so many buildings, manufacturers, ship builders, and tourists, it is high priority to maintain the area's appearance with high-performance coatings. These coatings need to offer longevity, which is important that they provide excellent adhesion and tensile strength, to prevent wrinkling or creasing. Industrial and commercial painters can often be seen cleaning and recoating valuable surfaces in the area.
Retail sales in Philadelphia county made more than $11 billion in revenue, in 2007. Center City is home to more than 1,000 retailers, 77% of which are boutique, independent, or local retailers, and 23% of which are national chains. Development in this retail district is booming, and more than $4.7 billion in new retail construction should be completed between 2013 and 2017. Philadelphia also has a few more eclectic neighborhood shopping districts within city limits, as well as many large shopping and strip malls in the surrounding counties.
Wholesale merchants in the county accounted for an additional $11 billion in revenue in 2007, and in the metro region wholesale trade is the largest industry by gross product, with $160 billion in sales in 2007.
The fourth-largest employment sector, at 14%, is professional and business services. Among other professions, this includes many of those working for finance and insurance industries (including the only two of the county's top 10 employers not in the health and education sector) and the city's many prominent law firms.
TOURISM AND CULTURE IN PHILADELPHIA, PA
Leisure travel and hospitality is the fifth-largest industry in Philadelphia, and it generated $10 billion in revenue in 2013. The city was host to 39 million visitors that year. A majority of the visitors are from the Eastern United States and are day-trippers, but the number of both overnight visitors and international visitors is rising. Philly also ranked ninth on Forbes' list of the most-visited U.S. cities in 2010. Leisure and hospitality also accounts for approximately 10% of the city's jobs.
Popular tourist spots include the Liberty Bell, Independence Hall, the homes of Betsy Ross and Edgar Allan Poe, Fort Mifflin, and many other historic sites. The city also includes the 42-acre Philadelphia Zoo, and Fairmont Park (which has many associated neighborhood parks throughout the city, totaling 4,000 acres).
Accommodation and food service sales in Philadelphia County were more than $3 billion in 2007. Philadelphia's Center City includes more than 900 food service establishments, including more than 400 full-service restaurants. There are also nearly 16,000 hotel rooms available in the county's approximately 80 hotels. In 2013, the occupancy rate was about 73% and these rooms earned $657 million in revenue.
Arts and culture drives $3.3 billion in revenue – $1.4 Billion in direct spending and $1.9 in indirect spending. This includes expenditures by cultural organizations as well as money spent by residents and visitors on entertainment.
A few of the city's many museums include the Philadelphia Museum of Art (the third-largest art collection in the country), The Barnes Foundation (an art museum featured in the popular documentary "The Art of the Steal"), The Franklin Institute (science museum), the National Constitution Center, and the Historical Society of Pennsylvania.
The city has more public art and murals than any other city in the U.S. This is thanks in part to a "Percent for Art" ordinance (administered by the Philadelphia Redevelopment Authority) and a Mural Arts Program (a public/private partnership).
The city is home to the Philadelphia Eagles (NFL), Philadelphia Flyers (NHL), Philadelphia Phillies (MLB), Philadelphia 76ers (NBA), and Philadelphia Union (MLS) – making it one of 12 cities that has professional teams from four major sports (one of just three which has all four playing within city limits) and one of nine to have all five sports including soccer.
The draw of all these tourists requires clean and well maintained substrates. Industrial and commercial painting can help provide the maintained appearance that tourists expect. Additionally, the inverse also applies, as a well maintained and painted facility, exhibit, or sports complex can impress tourists enough to get them to return. Once again, commercial painting serves an important role in infrastructures, and can help improve the performance and economics of a facility or area.
MAJOR CORPORATIONS IN THE DELAWARE VALLEY REGION
There are three Fortune 500 companies with headquarters in the City of Philadelphia as of 2014, in the industries of cable and media, food service, and retail packaging and branding. Other Fortune 500 corporations in the nearby region include those in pharmaceutical manufacturing, insurance and finance, acute care and behavioral health, and energy (gas and oil).
Other notable corporations, including some in the Fortune 1000, with their headquarters in Philadelphia, represent the businesses of chemical manufacturing, automotive service, energy (oil and gas), retail clothing sales, engineering and technology staffing, and insurance and finance.