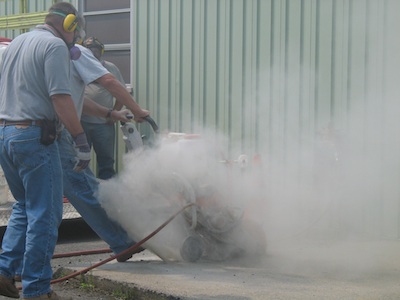 Safety Precautions When Using Industrial Paints or Grinding Concrete
Whether you're applying new coatings, or you're preparing concrete to receive fresh epoxy or urethane cement, there are numerous factors to consider before beginning the work.  And one of the biggest factors is how to sustain air quality.
Grinding Concrete:
Grinding concrete is an important step for installing epoxy.  But when you grind the concrete, you release silicates into the air.  And these silicates can cause serious damage to your lungs, including cancer.
Here are some great products to prevent silicates from entering your body:
Half Face Respirator:
These half face respirators are designed to hold various types of filters.  The pink filters in the image above are used for light duty grinding.  They are great for keeping airborne particles out of your lungs.
But, if you're working with high VOC paints, or high solvent paints, then you'll need to use a different filter.
This filter would go in place of the pink filter in the image of the man wearing the respirator.  This filter uses multiple filtration layers that scrub and clean the air, before it enters your lungs.  Filters like this can remove vapors from aggressive solvent paints and cleaners, to help ensure your health.
Although these respirators are designed to keep you safe, you'll need to do your part by making sure you wear it properly.  Half face-mask respirators often need fitted.  This ensures that you're wearing the correct size, so that the rubber gasket is compressed around your face.  As long as you do that, you can breath easy, knowing that the harmful vapors aren't entering your lungs.
Light Sweeping or Cleaning
The face mask in the image above is practical for common cleaning and sweeping.  It does not create a tight seal around your face, like the half face respirator.  But it does do a nice job keeping larger dust particles away from your nose and mouth.
These face masks are easy to find, and relatively inexpensive.  They come in bulk packages, which can be helpful for common household chores.
But, compared to the half face respirator, these dust masks will provide the level of safety from silicates and solvent vapors.
PennCoat, Inc. has been providing industrial painting, commercial painting, epoxy flooring, and polished concrete services for nearly 30 years.  Our experienced installers are trained and equipped with the proper knowledge and tools to ensure that every installation is installed efficiently and safely.  PennCoat, Inc. provides service to Pennsylvania, New Jersey, Maryland, and Delaware.  And we cover York, Lancaster, Philadelphia, Chester, Montgomery, Baltimore, Harrisburg, Dauphin, Bucks, Berks, and other counties in the surrounding area.
Sign up for our exclusive Painting & Epoxy Flooring Forum to provide questions and answers for common situations.