Commercial Painting and Epoxy Flooring Contractors in Harford, MD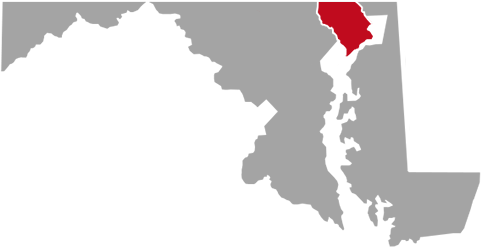 INDUSTRIAL PAINTING : EPOXY FLOORING : COMMERCIAL PAINTING
Harford County, Maryland, is a suburban part of the Greater Baltimore metropolitan region. Like the rest of the area, it has changed from an economy historically based in shipping and manufacturing to a mostly service-based economy. Its major features include the Chesapeake Bay coastline, a large military base, a hydroelectric dam, and a variety of small-to-medium businesses.
And regardless of this economic diversity, every industrial facet still requires industrial painting and coatings. Sometimes the paint may need to serve different purposes, from heat tolerance, to thermoshock tolerance, to abrasion resistant, to submergibility. But regardless of the specification, the demand is still present, to coat the substrate, to protect it from the various elements that may damage the important material beneath the coating. PennCoat is proud to serve as an industrial flooring and painting contractor to Bel Air, Aberdeen, Havre de Grace, and the rest of Harford County.
OUR Baltimore County Contracting Services Include
ECONOMY OF HARFORD COUNTY, MD
The population of Harford County, MD, was estimated at 249,000 in 2013. Harford County's incorporated municipalities are: the City of Aberdeen, the largest municipality at nearly 15,000 residents; the City of Havre de Grace, with nearly 13,000 residents; and the Town of Bel Air, which is the county seat and has more than 10,000 residents. There are also a number of smaller, unincorporated communities.
Harford County is part of the Baltimore Metropolitan Statistical Area (MSA) along with Baltimore City and Baltimore, Anne Arundel, Caroll, Howard, and Queen Anne's counties. This is the nation's 20th-largest metro area, with about 2.7 million people. This entire region is also part of the larger, Combined Statistical Area (CSA) of Baltimore-Washington-Arlington.
In 2013, the Baltimore metro area's Gross Domestic Product (GDP) was more than $168 billion. Government, health care, education, professional and business services, and trade are a few of the region's largest industries, both in terms of employment and revenue. The region started out as a center for shipping and manufacturing, but in recent decades the economy has become more based on services.
Just over half of Harford County's workforce both lives and works in the county. Based on data from the year 2000, Harford County had more than 53,000 commuters leaving the county and less than 18,000 coming back in – resulting in a net loss of about 36,000 commuters. The majority, about 80%, were heading to work in Baltimore City and County. Meanwhile, most commuters entering Harford are coming from Baltimore County, Cecil County, Baltimore City, and York County, PA.
The largest sector of employment within Harford County is trade, transportation, and utilities; with 29% of the county's workforce. The next-largest sectors are education and health services (17%), professional and business services (15%), and leisure and hospitality (14%).  But regardless of which sector, all are dependent on the performance coatings.  Trade and transportation in Harford county will often include ships and ports.  These areas require specific epoxy coatings that will coat and prevent the hull of the ships from rusting, which help sustain the longevity of the ship.  Additional transportation methods may involve flight.  Airplanes are scrutinized by high altitudes, which present challenging weather conditions.  Specialty industrial or commercial paint needs to be considered, in order to protect the internal structure of the plane.  Health and education services include facilities that demand cleanliness.  Filled joints, sealed floors, and smooth surfaces help prevent dust and insects from entering.  Epoxy flooring contractors provide an invaluable service by installing chemical resistant epoxy floors that can hold up to spills and routine cleaning with tough chemicals.  And hospitality is always in need of a fresh coat of commercial grade paint.  Commercial paint offers more benefits than typical acrylic house paint.  Commercial paint can withstand more abrasion, sunlight, and washing due to modified chemical make-up.
INDUSTRIAL HISTORY OF HARFORD COUNTY, MD
Harford County, MD, is located to the east of Baltimore, at the top of the Chesapeake Bay. It was formed in 1773 from a former part of Baltimore County. One of the important early settlements in Harford County was at Havre de Grace, located at the mouth of the Susquehanna River.
In the 19th century, Havre de Grace and Harford County were known for harvesting seafood such as oyster and crab, fruit orchards, and as a seasonal destination for duck hunting. Duck decoy making became a significant local art.
Havre de Grace was also the location of a major fruit-packing factory and a major tin canning factory, to which farmers brought produce from across Harford County. This cannery was the holder of many patents and innovations related to the early food-processing industry. The Greater Baltimore region's canned food products were a major export during this era.
And whenever dealing with food, federal inspections are prevalent. Federal inspections have high expectations for how clean a plant or facility should be. Those inspections include coated concrete floors, painted walls and ceiling, painted machinery, and caulked and sealed joints. Although concrete is strong, inexpensive, and great for building a foundation, it can create a lot of dust that can contaminate product. Epoxy coatings or urethane cement coatings help seal the concrete, which prevents dusting, helping to maintain the cleanliness that food plants and facilities need to maintain. And just like epoxy floors, painted walls and ceilings prevent failing substrate from contaminating product. The benefit of industrial painting or commercial painting is to contain any corrosion that may be existing on structural steel. Steel is a magnet to dirt and rust. And if too much is shown, it can cause a facility to be shut down. Industrial and commercial paint will not only contain, but also help sustain industrial steel by offering corrosion resistance. When apply a corrosion inhibitive paint, the substrate beneath the coating will be protected from the water penetration that causes rust.
These foods and other products were shipped to other areas by way of the Susquehanna River and Susquehanna Canal, and later by the area's railroads. The Port of Baltimore, Baltimore and Ohio Railroad, Maryland-Pennsylvania Railroad, and National Road also made the entire Greater Baltimore region a transportation and shipping hub. And all these transportation avenues require specialty coatings that help improve the longevity of the substrate they are protecting. Epoxy coatings need to handle potable water, due to being submerged. So the ships sailing through the rivers and canals need to be coated with a high performing epoxy paint that won't delaminate when submerged for extended periods of time.
From the early 1900s through the 1950s, the city of Havre de Grace was home to a horse race track, and the community was known as a tourist stop for gamblers and gangsters. At the end of the 1950s, this race track was closed and its rights were taken over by Pimlico in nearby Baltimore. The town of Bel Air, MD, also had a horse race track, which operated from 1870 to 1960.
In the 1980s, Havre de Grace underwent extensive redevelopment. The number of middle- and upper- class residents continued to expand through the 1990s. This area of Harford County is now a popular spot for second, vacation homes and for retirees, as well as residents who commute from these suburbs to other locations in the region. Antique and specialty retail shops have also prospered here.
Today, most of Harford County's major towns and industrial developments are still located in the southern portion of the county, close to the Chesapeake Bay coastline. And the purpose of these locations is due to the close proximity of the Chesapeake Bay. The bay will serve as an optional transportation system for many of the food and material being produced. But water serves as a tricky avenue, because of the challenges of providing adequate coating systems for those transportation units. As discussed, ships and boats need to be coated with commercial or industrial paint that can withstand exposure in submerged water. Submerged water can quickly delaminate and dissolve most coatings, so it becomes imperative to use the proper industrial or commercial paints, to help maintain the integrity of the ship's internal structure.FREE ESTIMATE FOR YOUR HARFORD FACILITY
MILITARY FACILITIES IN HARFORD COUNTY, MD
Harford County is home to Aberdeen Proving Ground (APG), in the city of Aberdeen, MD. This is a U.S. Army facility that is the headquarters of the United States Army Test and Evaluation Command (ATEC). It employs more than 5,000 military personnel, more than 7,500 civilians, and a significant number of private contractor employees. This is by far Harford County's largest single employer – employing more than 21,000 workers, compared to the 5,000 workers of the next-largest employer.
The Aberdeen Proving Ground is the nation's oldest active proving ground, and it was established during World War I. This military base is used to research, develop, and test weapons, chemical substances, military technology, and military tactics. It now encompasses Edgewood Arsenal – a nearby site used to test chemical warfare material – that was originally established as a separate facility and is located about 15 miles away. APG is also home to National Guard and Army Reserve operations. Since a restructuring of military bases that occurred between 2005 and 2011, the APG has become one of the country's most diverse military bases.
And with any restructuring is construction that requires steel infrastructures. Steel is incredibly strong and does great work supporting large facilities. But the integrity of that steel can become compromised if exposed to too much water. Industrial painting becomes important to help maintain that integrity, so the steel can continue to perform at such a high level. Most industrial or commercial paints will need to include a rust inhibitor, which will prevent moisture from breaking through the paint, and making contact with the substrate of the steel.
The Aberdeen Proving Ground covers more than 72,000 acres. More than half of this is wetlands, while about 7,000 acres are developed. Its over 2,000 buildings include research laboratories, offices, training facilities, warehouses, and housing.
The rest of the Greater Baltimore metropolitan region is also important in the defense and security industries. Its proximity to Washington, D.C., makes it a popular location for Federal Government agencies as well as private contractors and subcontractors who provide services for them. The corridor from Greater Baltimore to Washington also includes an exceptionally high concentration of information technology professionals, particularly in the fields of video game production, computer simulations, and cyber security.
EDUCATION, GOVERNMENT, AND HEALTHCARE IN HARFORD COUNTY, MD
The single public school system in Harford County is the second-largest employer in the county, with more than 5,000 employees. There are no four-year universities located within Harford County. However, there is a community college in Chuchville, MD, that employs about 1,000 workers (making it the county's sixth-largest employer), and the nearby counties in the Baltimore region include more than 20 universities and colleges.
The Harford County Government, with about 2,000 employees, is the fourth-largest employer overall.
There is one main hospital system in Harford County, which operates two campuses and several smaller health care facilities. It is the largest private-sector employer in the county, and third-largest overall, with more than 3,000 employees. There are also several health care facilities operated by other companies, including some by the Baltimore-Washington region's largest hospital system.
The healthcare industry is prominent in the rest of the Baltimore area, with nearly all of the largest employers in Baltimore City and Baltimore County in this field. This sector brings in more than $14 billion annually to the metro region.
Health care facilities need to provide clean rooms for their patients. They can't be breeding grounds for viruses and bacteria, so it becomes crucial that the surfaces are easy to clean. Additionally, the surfaces need to be seamless, barricading any vulnerable cracks or crevices that might be barrier-to-entry for insects or rodents. Epoxy flooring or urethane cement flooring can create those seamless flooring options that health care facilities require. And beyond the seamless offering, they retard microbial growth, meaning that microbial and viral growth will occur at a much slower rate than standard surfaces, reducing the chance of outbreak.
TRADE, MANUFACTURING, AND DISTRIBUTION IN HARFORD COUNTY, MD
Manufacturing in Harford County made more than $2 billion in revenue in 2007. Wholesale trade revenue that year was nearly $1.9 billion, and retail trade accounted for more than $3.3 billion.
The 8th-largest employer in Harford County is an engineering and technical services company, which sells mainly to the aerospace and defense industries – including NASA as one of its major clients. This company has two facilities in Harford County and two more elsewhere in Maryland.
The remainder of the top 10 employers in the county are retail stores. A major drug store (1,200 employees) and a department and clothing store (900 employees) both have distribution centers in Harford County. Two grocery store chains round out the top ten.
The rest of Harford County's businesses are small- to medium-size firms, with less than 500 employees in the county. Among the significant or nationally-known businesses included in these are a distribution center for a cosmetic and beauty supply store; a snack food company; a transportation contractor which builds roads, bridges, industrial plants, and other infrastructure; a management consulting firm; more retailers; and several companies in science, engineering, technology, and IT.
Bel Air, MD, is home to an indoor mall with more than 80 stores, and Abington, MD, has an outdoor shopping center development with about 20 stores. The several downtown areas of the county also have boutiques and specialty shops.
The Conowingo Dam is located on the border of Harford and Cecil counties, with its offices on the Harford side. This hydroelectric station is in the Susquehanna River. Conowingo is one of the largest non-federal hydroelectric dams in the nation, and it produces an average of 1.6 billion kilowatt hours a year, most of which is transmitted to the Philadelphia area.
A 9,000-acre reservoir is also located at the Conowingo Dam. This provides drinking water for Baltimore, MD, and Chester County, PA, as well as cooling water for the Peach Bottom nuclear power plant (located in Pennsylvania three miles north of Harford County's border).