Commercial Painting and Epoxy Flooring Contractors in Baltimore, MD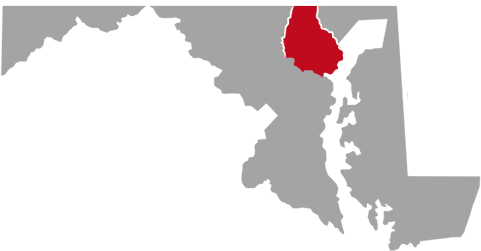 INDUSTRIAL PAINTING : EPOXY FLOORING : COMMERCIAL PAINTING
Baltimore Maryland is home to some of the most well known industrial brands.  These brands are built in a variety of plants and facilities.  And although these plants and facilities create a variety of objects and products, they share the common need of scheduled maintenance.  Key compontents of that maintenance include industrial painting and epoxy flooring. PennCoat Inc. is proud to be one of the top epoxy flooring, commercial painting, and polished concrete contractors serving Baltimore County.
OUR Baltimore County Contracting Services Include
Baltimore, Maryland
Baltimore, Maryland grew as an industrial city thanks to its major port and coastline on the Patapsco River and Chesapeake Bay, but it has recently transformed into a service-based economy with significant tourism to its Inner Harbor area. Baltimore's nicknames include "Charm City" and "The Monumental City."And wherever there are large tourist attractions, there is a large need for clean and painting and coating.
Tourists expect their destinations to be well maintained, and thus, should be adequately painted with the proper industrial or commercial paint. If the destination includes walking, the area would be well advised to install a slip resistant epoxy coating, to ensure the safety of the tourists. But regardless of what is drawing the attention, there is a specific need for coating, to serve both functionally and aesthetically. PennCoat can provide any of these necessary services as a premier commercial painting contractor for Baltimore, MD.
THE HISTORY AND ECONOMY OF BALTIMORE, MD
Baltimore, MD is the largest independent city in the U.S., which means that for most purposes it is a county-level entity and is no longer officially part of Baltimore County. The city was founded in 1729, but it assumed its independent status in 1851. Baltimore City annexed some areas from the surrounding counties after this. However, an amendment to Maryland's Constitution in 1948 effectively stops the city from annexing further land.
After Baltimore City became independent, Towson, MD, became the county seat of the remainder of Baltimore County. Today there are no incorporated municipalities located entirely within Baltimore County, but there are a number of unincorporated communities. Most of the county is suburban, with some rural land located in the north.
The Baltimore Metropolitan Statistical Area (MSA) contains the City of Baltimore and the Counties of Baltimore, Anne Arundel, Caroll, Harford, Howard, and Queen Anne's. This metropolitan area is the 20th-largest in the nation, with a population of about 2.7 million. In 2013, an estimated 622,000 of these people live in Baltimore City and 823,000 live in Baltimore County.
Baltimore County is the most industrial county in the state of Maryland, with 155 business and industrial parks. It is also the largest job center in the region (and second-largest in the state) with about 394,000 jobs.
And all of these industrial jobs subject workers to difficult working conditions. Safety is every worker's number one priority, and epoxy flooring can help ensure a safe work environment. Wet areas can prove dangerous by creating slippery floors that may cause workers to slip and fall. An epoxy or urethane cement floor with a broadcast system, can offer a coefficient friction to prevent slippage, helping to keep the workers safe from falling.
Approximately 200,000 people commute into Baltimore City to work, while about 120,000 live in the city but reverse commute to other areas to work. About 100,000 both live and work inside the city limits.
The Gross Domestic Product (GDP) of the Baltimore Metropolitan Area was more than $168 billion in 2013. This includes approximately $34 billion in government, $25 billion in real estate, $24 billion in professional and business services, $14.6 billion in health care and social assistance, $3.4 billion in education, and $9 billion in finance and insurance. The region also accounts for about $10.8 billion in manufacturing, $9 billion in wholesale trade, and $8.3 billion in retail trade, $5 billion in information services, $1.8 billion in arts and recreation, and $3.8 billion in accommodation and food services.
In 2014, the largest sectors of employment in the metropolitan region of Baltimore, MD, are education and health services (17.8%), trade, transportation and utilities (16.8%), government (16%), and professional and business services (15.5%).
THE PORT OF BALTIMORE AND THE SHIPPING INDUSTRY
The Port of Baltimore was founded in 1706, prior to the city, and it is now the second-largest seaport in the Mid-Atlantic region. The port's 50-foot depth makes it one of only two ports on the East Coast which can accommodate the largest shipping vessels.
Initially the port was used for the tobacco trade. In the 18th century, it also became known for the importation and processing of sugar cane from colonies in the Caribbean. There is still a major sugar refinery located in Baltimore; this is operated by the world's largest vertically-integrated sugar processing company, which makes more than 6 million tons of sugar annually. Other importation and food processing facilities also sprung up in the region thanks to Baltimore's Port, with products including coffee from Brazil, canned goods, flour and grain, and raw cotton.
All of these time-sensitive products attract pests and rodents looking for a free meal. So it's important to create a seamless coating system to subside these vulnerabilities. Epoxy floor coating is an excellent material to line the floor with, because it denser and heavier than industrial paint, increasing the difficulty for breaching. And when coating the ceilings and walls, commercial or industrial paint will bond tightly enough with the substrate to discourage any insects or rodents from breaching into the perishable goods.
Today, the Port is the 11th most-active in the country, by volume and value of goods, and the port's major products transported include lumber, heavy equipment, machinery, and vehicles.
Baltimore's importance as a transportation hub was also helped by the National Road, or Cumberland Road, which was the first major highway built by the U.S. Federal Government and ran from Maryland to Illinois. Today, much of this route has become part of U.S. Route 40.
And with this much traffic, it is important that road lines are installed with superior adhesion. Road paint is an industrial coating that works in unison with the asphalt used to make road paint. When the roads are installed, the paint is applied before the roads have completely cured, allowing the road paint to create a chemical bond with the asphalt. When this industrial paint bonds with the asphalt, that bond offers an adhesion that can withstand constant traffic for years.
The Baltimore and Ohio (B&O) Railroad also linked the city to the Midwest. This was the first intercity railroad in the U.S. and the first to offer freight and passenger service to the public. At its peak, it ran east to Staten Island, New York; west to Illinois; and north to the Great Lakes.
MANUFACTURING IN BALTIMORE, MD
Baltimore, MD, historically had an industrial economy. By the late 1800s the manufacturing of products surpassed the income from the trade of those shipped through the port.
Fells Point, on Baltimore Harbor, became a ship building center. Clipper ships, fast vessels used for transporting goods from South America and to reach California during the gold rush, became its main specialty.
The metal industry was also prominent in Baltimore, first with tin and sheet iron products, and later with steel. In the 1950s, Sparrows Point in Baltimore was home to the most productive steel plant in the world, making 8 million tons of steel in a year. However, this plant closed in 2012. The manufacture of automobiles, foundry and machine shop products, and canned goods also contributed to the importance of the city's metalworking industry. Airplanes and aviation equipment were also made in the city during World War II.
And with steel in mass production, a solid foundation to support all of that work is necessary. Concrete slabs are great, but don't always provide the hardness to prevent damage from chipping and cracking. Epoxy floors are dense, but with fork lift traffic and skids, pushing around steel that tends to leave metal splinters, can penetrate the epoxy coating. And once penetrated, that epoxy coating becomes vulnerable to oil and contaminants in the steel foundry. Too much oil get works its way beneath the epoxy, and cause the epoxy to delaminate from the initial concrete, creating an epoxy coating failure. However, PennCoat has found that urethane cement is an excellent solution for steel foundries. Urethane cement is extremely hard, making it almost impossible for steel slivers or splinters to break through. Additionally, urethane cement offers great adhesion properties than epoxy floor coatings. So, in the unlikely case that something is able to penetrate through urethane cement, contaminates will not be as successful in cause delamination from the original concrete slab.
Other products Baltimore became known for in this industrial period were men's clothing, straw hats, and rye whiskey. The city also once led in refining crude oil imported from Pennsylvania.
Today, manufacturing employs just under 4% of the Baltimore region's workforce. Manufacturer's shipments for Baltimore City and Baltimore County added up to more than $15 billion in 2007 – this accounts for nearly 37% of Maryland's total manufacturing revenue.
Major factories and manufacturing facilities in Baltimore County today create products such as cosmetics and beauty products, lithium batteries, motors for electric and hybrid vehicles, aircraft, and medical diagnostic systems.  And these facilities are in constant need of maintenance and upkeep to maintain sanitation for clean-sensitive products, and to create a positive working atmosphere.  Industrial and commercial painting, as well as epoxy flooring, are great ways to freshen up an existing building.  Loose paint peeling from the substrate, or rust flashing bleeding through the existing paint can create an unkempt atmosphere, which may discourage workers and employees from performing at the best of their ability.  Additionally, if a plant is manufacturing clean-sensitive products that must fulfill strict sanitation guidelines, then loose or falling paint is unacceptable.  Painting contractors in Baltimore need to provide valuable commercial painting solutions that offer exceptional adhesion.  Material and environment need to be considered, so that the proper commercial or industrial paint can be chosen.
GOVERNMENT FACILITIES IN BALTIMORE, MD
Maryland's proximity to the national capital of Washington, D.C. has made the state a hub of government-related industries. Baltimore, MD, in addition to being part of its own MSA, is part of the larger Baltimore-Washington-Arlington Combined Statistical Area.
The Woodlawn area of Baltimore County is home to a number of significant Federal Government facilities. These include: the headquarters of the Social Security Administration (SSA), the headquarters of the Centers for Medicare and Medicaid Services (CMS), and the FBI Regional Operations Center. Together, these federal agencies are the largest employer in Baltimore County, with more than 16,000 workers.
There are also a large number of private contractors and subcontractors for the aerospace and defense departments located in Baltimore. And what's unique with aerospace equipment and machinery, is that its industrial paint needs to offer protection against unusual climates.
Baltimore County's public school system, with more than 14,000 employees, and County government, with more than 8,000, are its second- and third-largest employers.
HEALTHCARE AND EDUCATION IN BALTIMORE, MD
The healthcare industry has a significant impact on the economy of Baltimore, MD, particularly thanks to Johns Hopkins Hospital and University, which are Baltimore City's two largest private employers, with more than 40,000 workers combined. The hospital has been consistently ranked among the top three hospitals in the country for more than 20 years. The university is particularly known for its schools of medicine, nursing and public health; the nation's oldest continually-active music conservatory (the Peabody Institute); and its focus on research which has made it one of the most-cited institutions in the world and one of the leading recipients of federal grants.
Besides government agencies, the top ten employers in Baltimore County are all related to either the healthcare or education industries: four hospitals, a skilled nursing and assisted living facility, and two universities. With one exception (an energy products and services company), the top 13 private employers in Baltimore City are also in the health and education fields. The Greater Baltimore metro region has 18 hospitals and more than 20 colleges and universities.
Baltimore also contains the headquarters for a national company whose franchised learning centers offer tutoring and test preparation.
And with such a dominating healthcare influence, it's vital that those facilities are well maintained and sanitary. Commercial paints can offer anti-microbial growth, which has a lot of value in a hospital. But those commercial paints need to be applied at an appropriate millage, to create a seamless, impervious finish that helps maintain that sanitation. Epoxy flooring is a nice flooring solution. It is impervious, and offers great adhesion, which means it'll stick really well to the substrate. But additionally, epoxy coats can be washed down. So in a hospital, where washing and cleaning are a big concern, a seamless and impervious epoxy floor offers great depth and solutions for the area.FREE ESTIMATE FOR EPOXY FLOORING OR COMMERCIAL PAINTING
TOURISM IN BALTIMORE, MD
Baltimore, MD, is a thriving tourist destination, particularly around the Inner Harbor. This area went through a period of heavy redevelopment in the 1970s, when abandoned industrial warehouses were transformed into new facilities for culture and trade. Nearly 24 million visitors came to the city in 2013. Tourism and hospitality bring in about $6 billion in economic impact to the region.
The National Aquarium is the state's top tourist destination. It has more than 1.5 million visitors a year – about one-fourth of these from Maryland and three-fourths from out-of-state – and an annual economic impact of about $320 million. The aquarium houses more than 17,000 marine animals, and it also has lead important education and conservation efforts since its opening in 1981. From 2003 to 2013 it operated as a single organization with the previously-independent National Aquarium located in Washington, D.C. However, the D.C. location is currently closed, leaving Baltimore as the only National Aquarium location.
The Inner Harbor also boasts a number of historic ships open for tours, including the USS Constellation, the USS Torsk, the Taney, and the Chesapeake. Along with a historic lighthouse and a gallery, these are all now part of a maritime museum called Historic Ships in Baltimore.
Fort McHenry, where Francis Scott Key was inspired to write the National Anthem, is located in Baltimore. Baltimore also has other science museums, art museums, industrial museums, historic buildings and sites, many of which are centered in the downtown Inner Harbor area. Baltimore is also known for its seafood restaurants.
Baltimore's significant sports facilities include Camden Yards, home to the Baltimore Orioles (MLB), M&T Bank Stadium, home to the Baltimore Ravens (NFL), and Pimlico Race Track, home to the Preakness Stakes (the second part of horse racing's Triple Crown).
MAJOR CORPORATIONS IN BALTIMORE, MD
Baltimore City is home to the headquarters of three Fortune 1000 companies, two of these representing the finance and insurance field. These two companies offer investments and mutual funds, and each manages more than $700 billion in assets as of 2014. The third is a major athletic clothing manufacturer.
The region is also home to a Fortune 1000 company that manufactures herbs, spices, and other food flavorings. This company was founded in Baltimore and is now headquartered in Sparks, MD, in Baltimore County.
A further three Fortune 1000 companies are located in other counties in the Greater Baltimore metro region. One of these is a company that makes products for fluid handling and mechanical power transmission; its customers include the industries of gas and oil and power generation, shipbuilding and commercial marine activity, defense, mining, construction, and more. The second is a chemical company, which specializes in inorganic catalysts used in the fields of chromatopgraphy, gas and oil refining, construction, and packaging. This was the first company to commercially produce silica gel. The third of these is a computer networking and information technology company.
Other significant businesses headquartered in Baltimore City include: a chain of 155 convenience stores and gas stations in Maryland and three surrounding states, a company that develops commercial real estate and entertainment venues throughout the country, and a cake bakery that is the subject of a popular reality TV program.
A company that makes power tools and other home improvement and hardware products is based in Towson, MD, in Baltimore County. The world's third-largest jewelry company, known for its customizable charm bracelets, has its U.S. base located elsewhere in the region, in Howard County.
Maryland is also known for its information technology jobs, particularly in the areas of video games and computer simulations (which are used for the health and security industries, among others). The corridor from Greater Baltimore to Bethesda, MD, is known for these gaming and animation firms, which employ more than 32,000 people, and several notable gaming companies have been headquartered in Baltimore County. In part because of the defense and cyber security industries, the Baltimore and Washington, D.C. region has a higher concentration and larger base of IT professionals than Silicon Valley or other technology corridors in the country.