Cecil Epoxy Flooring Contractors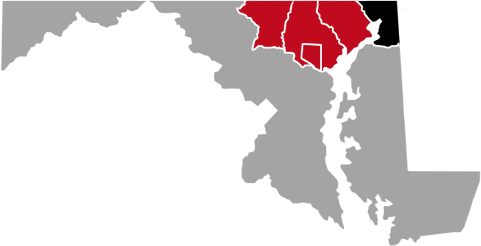 INDUSTRIAL PAINTING : EPOXY FLOORING : COMMERCIAL PAINTING
Cecil County sits right in the northeastern part of Maryland alongside Chester, PA. Stretching over 400 square miles, this area is primarily known for its rural environment packed with farms, orchards and outdoor activity. Families often settle in Cecil County for a comfortable lifestyle and beautiful sights like Gilpin's Falls, but nearby towns such as Elkton are home to businesses and manufacturing facilities.
If you're a plant manager or engineer, Cecil County is the perfect place to expand your industrial, warehousing and production efforts. Whether your company is thriving here now or looking to open up a new branch, PennCoat is here with flooring, paint and concrete services that revitalize workplace environments. Regardless of whether you handle medical supplies, electronics, food or pharmaceuticals, our solutions can increase your safety initiatives and keep you compliant within your field.
OUR Cecil Contracting Services Include
Epoxy Flooring Services in Elkton
PennCoat separates itself from the competition by taking the time to come up with unique epoxy resins to suit each client's applications. Our contractors design and install coatings for concrete and metal surfaces, which helps them better withstand abrasive materials and chemical spills. Workers greatly benefit from our updated epoxy flooring, as finishes create slip-resistant textures and easy cleaning.
You have the option of finishing vertical and horizontal surfaces in colors that match your brand image. Lay out safety markers and signals to communicate messages to your staff accordingly. Additionally, electrostatic dissipative properties in epoxy flooring help reduce the chance of hazardous shocks occurring from nearby equipment and machines.
Industrial Painting Services Near Cecil
Painting walls, ceilings, floors and equipment in industrial facilities should always be done by trained professionals. For more than 30 years, our painting contractors have seen it all, and they know exactly how to take precautions when applying finishes to structural steel, storage tanks, high-temperature boilers and more.
Depending on the surface, our contractors begin the painting process by pressure washing chipped finishes, rust, grease and debris. We catch bacteria and contaminates on tarps and screens to properly dispose of any waste. We'll guide you in the right direction toward elastomeric, epoxy and specialized paints for indoor and outdoor use.
Choosing paints unsuitable for your facility is a danger to both your employees and your products. Work with PennCoat for industrial paint solutions to experience the following benefits:
Rust prevention
Custom colors
Expansion and retraction control with steel
Weather tolerance
UV protection
FREE ESTIMATE FOR YOUR FACILITY IN CECIL
Commercial Painting Services for Diverse Industries
Work outside the manufacturing fields? We can help rejuvenate office buildings, retail stores, hospitals and more with our commercial painting services. From single rooms to detailed scaffolding, we'll restore your location's surfaces for a welcoming appearance. We'll even coordinate painting projects around your schedule so that you can carry on with business operations as usual. Bring your commercial visions to life with coatings for decking, masonry, wood, steel, brick and more.
Polished Concrete Treatments
Do you notice cracks and pits across your industrial flooring? Erase these signs of wear and tear with polished concrete services from PennCoat. Polishing substances will harden over your current setup to enhance overall durability with a reflective shine.
Polished concrete requires little maintenance, as there is no need to apply wax post-treatment. Drive forklifts and other vehicles across your updated flooring without fretting over holes and other imperfections.
PennCoat Serves Cecil County and Surrounding Locations
Transform the appearance of your workplace environment with the help of PennCoat. We offer epoxy, painting and concrete solutions in Cecil County at competitive prices. Our contractors alleviate the stress behind large projects with the skills, equipment and dedication for quick turnarounds and outstanding results.
If you're interested in learning more about our service locations, contact PennCoat at your earliest convenience.