Carroll Epoxy Flooring Contractors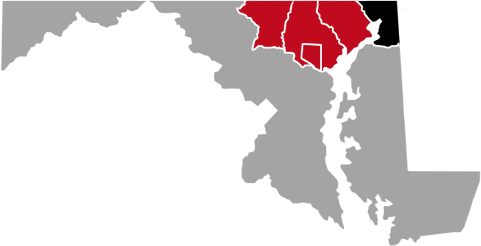 INDUSTRIAL PAINTING : EPOXY FLOORING : COMMERCIAL PAINTING
Carroll County is nestled along the northern part of Maryland and shares a border with the state of Pennsylvania. People who frequent this area know that local professionals are heavily involved with farming, vineyards and orchards. In recent decades, Carroll County has developed suburban pockets booming with local business and manufacturing efforts such as food processing, automotive design and construction.
If you're a plant manager or engineer, Carroll County is an ideal place for your facility. Whether you're thinking about moving to Carroll County or have a business here currently, PennCoat will be proud to serve your team with epoxy, paint and concrete services. We'll design and install unique solutions to improve safety practices and efficiency across your commercial space.
OUR Carroll Contracting Services Include
Manufacturing in Westminster: Epoxy Flooring Services
Durable and sanitary floors are a necessity for experts in manufacturing. In many industries, facility surfaces are constantly exposed to abrasive materials, chemicals and heavy-duty machines. If your concrete or metal floors have seen better days, contractors from PennCoat will improve your surfaces with an epoxy finish.
Why apply epoxy resins? Our contractors will work with you to determine the thickness, color and angle of your installations. Our crews have the ability to create perfectly level floors or slight slopes for seamless drainage between objectives. Epoxy floors stand up to foot traffic, resist high temperatures and are impervious, which reduces the risk of injury and stains. We'll even introduce you to hardeners that dry with non-slip textures.
Carroll County Industrial Painting Contractors
Industrial painting requires time and attention to detail. At PennCoat, all of our painting contractors are thoroughly trained to safely rejuvenate structural steel, tanks, silos, hot water pipes, industrial ovens and more. It's essential for you to choose the appropriate coats for your applications, so our contractors will walk you through solutions that are weather-tolerant and UV-resistant.
We'll handle indoor and outdoor projects so that you can focus on running your business. PennCoat starts the industrial painting process by power washing surfaces to eliminate grease, paint chips and buildup. You can even select custom colors to match your brand image.FREE ESTIMATE FOR YOUR FACILITY IN CARROLL
We Perform Commercial Paint Jobs in Westminster
Carroll County is home to a number of privately owned businesses, schools and automotive facilities. For your convenience, we extend our painting services to companies outside of manufacturing. From gymnasiums to hospitals, our contractors work to keep Westminster commercial spaces in pristine condition.
What are we able to paint? The sky is the limit at PennCoat — we have project-specific finishes for:
Cinder block
Bricking
Wood
Masonry
Steel and metals
Decking
Scaffolding
And more
Polishing Concrete Floors in Plants and Facilities
Concrete floors are prone to wear and tear in industrial facilities, warehouses and storage locations. Because employees use forklifts and vehicles to lift pallets, surfaces crack over time. If your workplace has small holes or pits in the concrete, our contractors will fully repair those issues with our polishing services.
We can expose your concrete floors to a reactive substrate that leaves a glass-like finish. Polished concrete improves light reflectivity, and little maintenance is necessary post-treatment.
Contact PennCoat for Paint and Flooring Services in Carroll County
PennCoat has more than 30 years of experience implementing epoxy floors and industrial paint solutions. We gladly serve Carroll County and surrounding locations, promoting clean and safe working environments for teams both large and small. Look no further than our contractors for competitive pricing, knowledgeable experts, sound advice and quality workmanship.
For more information about any of our services, reach out to us to discuss your project today.