Polyaspartic Floor Coating System
If you're looking to protect the floor in your commercial/industrial facility from the daily challenges of chemicals, spills, ongoing wheeled and foot traffic or general wear-and-tear, it might be worth considering a polyaspartic floor coating system.
Polyaspartic flooring is a low-odor, fast-curing option that involves adding an aliphatic polyurea coating as a protective layer, and it's considered an alternative to the epoxy or urethane coating that is used to enhance or restore your floor. Originally found in construction applications such as coating steel girders on bridges due to its strong corrosion-resistant properties, polyaspartic coatings are now commonly used in concrete floor surfacing applications — much like epoxy and polyurethane coatings.
When you work with PennCoat to apply a polyaspartic floor coating system, we will meet with you to recommend the perfect solution for your needs based on your specific operation. Our highly trained team will prep the area and perform the work quickly and with minimal impact to your operation. What's more, thanks to ongoing, consistent training, our flooring experts know how to work safely in complex industrial facilities.
Benefits of Polyaspartic Flooring
Polyaspartic flooring is flexible, impact-resistant and provides a brightly colored, high-gloss finish that lasts. This type of flooring is a fast-setting resinous system, meaning that our highly trained team can install multiple coats in one day versus the one-coat-per-day maximum of epoxies.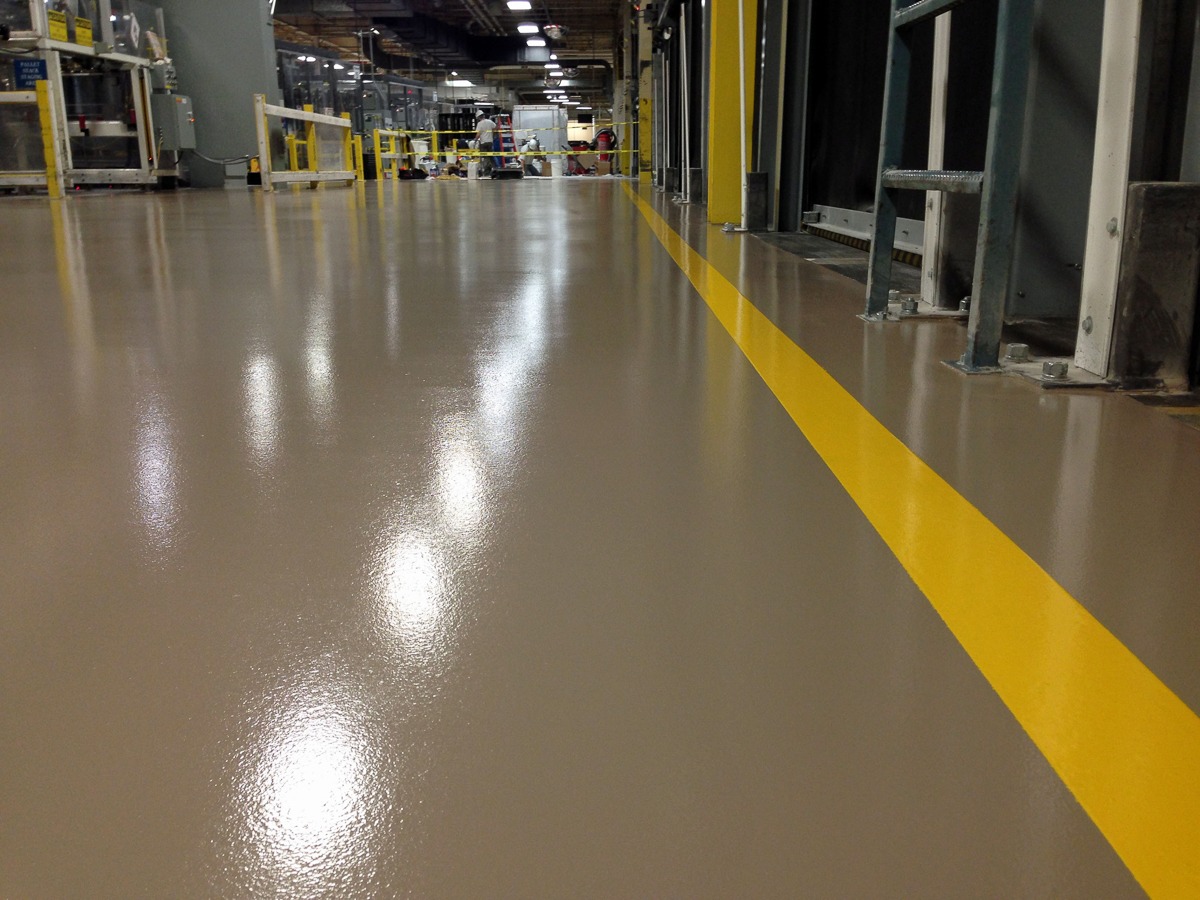 Polyaspartic coatings are also very low in volatile organic compounds (VOCs). Whether your company is looking to become more environmentally friendly or you'd like to replace the flooring in a confined area without ventilation like a storage tank or railroad car, polyaspartic flooring could be what you're looking for. In addition, if your area has local "green" laws that impose higher taxes on companies that produce higher levels of VOCs, this type of coating can help you avoid them.
In addition, polyaspartic coatings are durable, stain-resistant, lower maintenance, easy to clean, and longer lasting than traditional epoxy flooring. Some additional advantages of polyaspartic coatings include:
Can be applied in various weather conditions and temperatures
High yet controlled firm build-up
Lower chance of outgassing bubbles appearing
Dries clear and non-sticky
Many colors and decorative chip options that won't fade
Safe and quick installation
In particular, the one- to two day installation time is favorable for occupied facilities or those that cannot cease operations to accommodate a traditional floor installation such as pharmacies and hospitals. Polyaspartic coatings do not emit significant odors, and they can be installed with minimal disruption to your daily routine. Other ideal industries for polyaspartic coatings include retail venues, supermarkets, schools, museums and offices.
Why Choose PennCoat
An Avetta-trusted, ISN member, PennCoat knows the right type of polyaspartic coating for your commercial/industrial floor and how to apply it evenly and efficiently to give you the best possible result. Since polyaspartic coatings can dry in just a few hours, our flooring experts can apply the coating quickly and with minimal disruption to your everyday operation. We pride ourselves on being able to provide the best flooring options for all of our customers, and if you need polyaspartic flooring, we have skilled professionals who are happy to offer it.
If you're ready to try polyaspartic flooring or just want to learn more about how it works, please contact us today. We look forward to hearing from you.